Actually, I did manage to get a little bit into the spirit after all. My celebration manifisted itself in the way of baking cookies. Five batches worth. This is down from my traditional minimum of seven or eight. One wouldn't know that I had been baking for two days though. There isn't a cookie left in the house. They were either given to various neighbors or eaten. I won't say which disposed of more.

I hope that Santa was good to everyone else this year. He brought me lots of goodies. This picture showes a sampling. Four balls of Gedifra Scarlet, two skeins of Koigu in #403 (which I have to say is one of the pretties colors I've seen yet) and three of TSC's Donegal Tweed.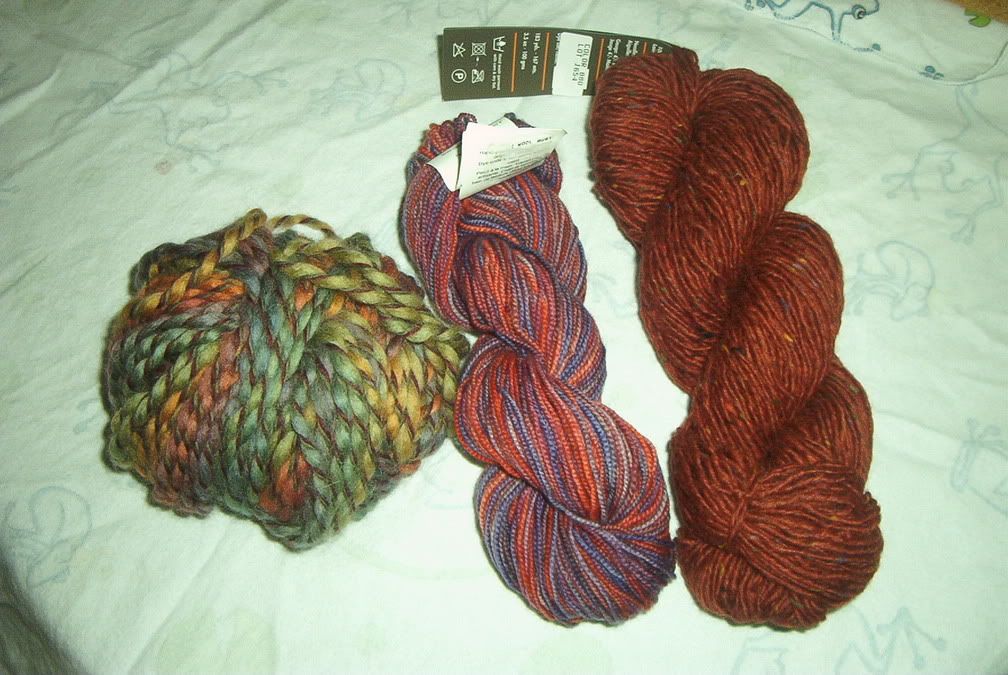 My lovely family also indulged me in other things: wooden dpns, a set of Lantern Moon needles, a copy of Socks, Socks, Socks and a copy of Simple Socks. Such wonderful things! I can't wait to play with everything.
My hands are still bothering me, but are better than they were. I've been wearing splints, taking Motrin, doing back and arm exercise and avoiding knitting to try to make them better. Avoiding knitting is proving to be very hard! I do sneak in a few rows everday, just to get my fix.