Stop right here. If you came to this post looking for fabulous colorwork, turn right around and leave. It ain't here.

If you're interesting in other things, please continue to read.

I hope that everyone who celebrates, had a wonderful Christmas. Ours was nice and quiet. The tameness of it was brought on by my lovely children giving me the stomach flu. This had me on the couch for all of Saturday and part of Sunday. Good thing I had had all the baking and wrapping done already.

Santa brought me lots of knitterly goodness this year.



What I didn't get that I really wanted has been purchased with money from the parents. What is is that makes a hard to find book, have to be bought now? Not sure, but I got four of 'em. Can't wait till they get here.

I do have a little something to show knitting wise: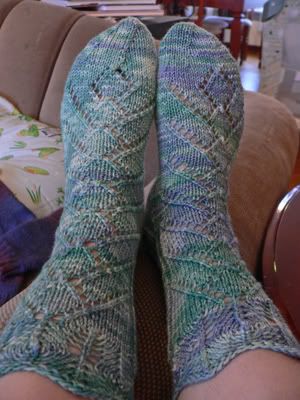 Pattern: Friday Harbor from Knitting on the Road
Yarn: Spunky Sport in "Meadow" from Spunky Eclectic



No, you're eyes do not deceive you, one IS taller than the other. The second sock was knit a bit looser since these babies are tight. Well, only the cuff is, the rest is a bit loose. Should I ever make these again, I'll do the cuffs on a larger needle and then switch. And yes, the color completely obscures the pattern, but I'm not ripping it out.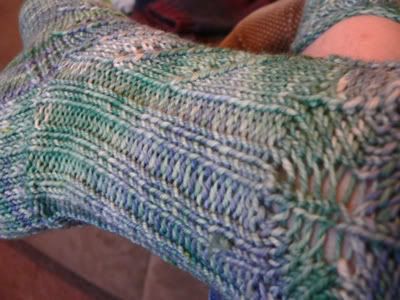 How's that for some pooling??? Don't get me wrong, I love the yarn, love the colors; I'm just too lazy to do something else with it. So it stays.

So, about that colorwork...

Anemoi has been started and frogged a good ten or eleven times. I can't seem to make the cast on look like hers for the life of me. After four days of messing with it, I've put everything away until I'm not annoyed anymore. Then, I'll probably do another whole different cast on.

The Greek Mittens were started and frogged as well. They're knit from the point to the cuff and my increase were a mess. While I was at it I figured that maybe I should measure the man's hand. That will have to wait at least a month more.

Oh, and the raglan I was working on? Stuffed into a bag and waiting it's turn at the ball winder. I hated it. The fit, the neckline, the way the color was knitting up.

Maybe I'll pull Arwen out and fix the sleeve. Maybe not. Guess y'all will have to wait and see!