A couple weeks ago I signed up for the Stranded: The Colorwork Challenge. At first, I wasn't going to do it, since I've got a few other knitalongs going on and didn't want to overcommit myself. I tried to turn my attention to the other projects on the needles but my mind kept going back to it. So, I caved in and went looking at my books to find a good project.

As I was searching, I found the Greek Mittens from Folk Mittens that I had promised to make for Royd last winter. Heck, I've had the yarn since then. As the pattern is written, it calls for an 11 spi on worsted weight for a womans hand. I figure that a spi between 9.5 and 10 will make them perfect. Swatching revealed that it just wasn't possible. I got down to an 8.5 on 2.0 mm needles and found it unbearable to knit. So, I quickly placed an order for some Nature Spun Sport which should be here by next week.

Then, I saw the wonderful new pattern over at Eunny's. By noon of that day I had the pattern and some yarn in hand. Dang gauge strikes again! This time too small. Yet another order goes in, this time for some Gems Pearl.

I felt kinda deflated since I really, really, really wanted to do some colorwork. After putting Arwen in the corner for a time out that I don't really want to talk about (whole sleeve being reknit for the second time), I dug the books back out.

I wasn't exactly searching for stranded patterns, but for a sock pattern and ended up getting both.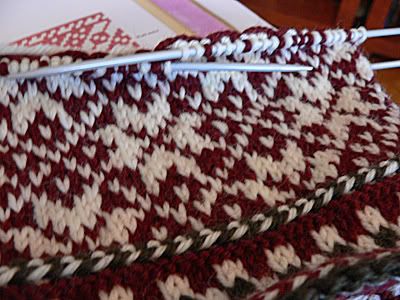 My latest project: Christmas in Tallinn



I'm not making it for anyone in particular. I figure it's good to have an extra stocking in the house, should we ever have guests.

This is my warmup for the mittens. It's been awhile since the last time and I needed the practice with tension. So far, I'm loving it and am having a hard time putting it down.

The best part of it all? I'm using leftovers!