Thank you for all the healthy wishes. I feel much better today!

As promised, I finished up another pair of socks. I kitchenered the toes and wove in the ends just this morning.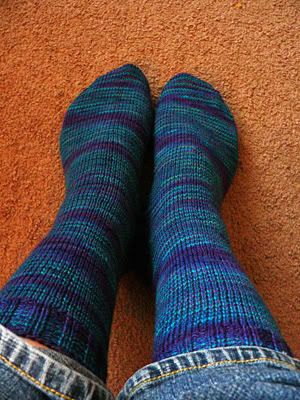 Yarn: Cherry Tree Hill Supersock, Blueberry Hill
Pattern: Plain Vanilla Socks on 64 stitches



I'd casted on for them while I was contemplating the substitute for the ill fated Latvian Lace. Although I had decided that they weren't what I was looking for, I didn't rip them out. All last week I kept turning to them and knitting a few rounds here and there. Before I knew it, they were finished.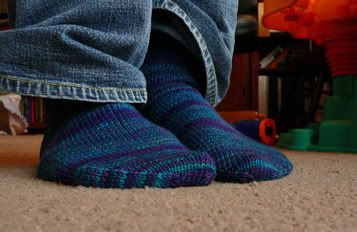 Words cannot express my love for these socks. Supersock is awesome! Soft, squishy and tightly twisted. I foresee more purchases in the future.

Speaking of purchases... Way back late this summer I had placed an order for two different colorways of merino/tencel from Chameleon Colorworks. I'd gotten one right away along with a note saying that the other would be sent shortly. About a month ago I'd realized that I'd never received the rest of the order. I sent an email off inquiring about it. We came to the conclusion that the mail had ate it and she would send a replacement immediately.

Since the original colorway wasn't available, I opted to choose a different one so that she didn't have to dye up more just for me. Well, I got the package today. Imagine my surprise when I got not just some gorgeous fiber, but some free stuff too! Janel so kindly gave me some Optim as a thank you. Wow, I can't wait to try this stuff out!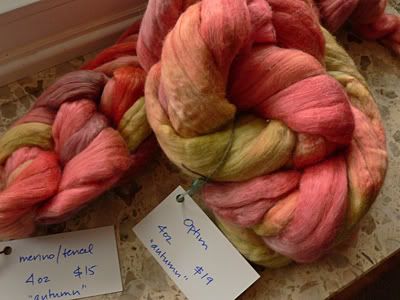 Beautiful colors, no?

Gee, I guess I need to hurry up and finish spinning the superwash merino that's hanging out right now. Then again, I have no idea what I'll do with either. I'm thinking one should be done laceweight.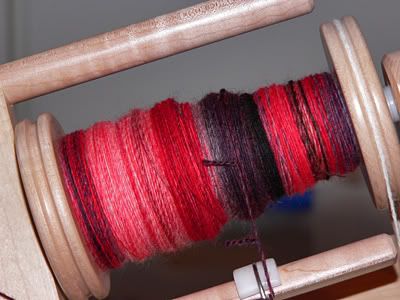 This is the Heatwave colorway from Crown Mountain Farms. I'm trying to spin ever so slightly thicker than the last batch. So far, so good.

That's about from here. I'm hoping to get some cleaning done today and tomorrow so that we can set up the Christmas tree and all the decorations early next week. I'll leave with you just one more picture.

Look who learned to stand this week!