The past two weeks have been pretty busy. Nothing in particular, just stuff. I've been trying to get this post together, but things kept getting in the way. So, instead of doing laundry, here I am. I have a lot to show. First I'll start with a few finished objects.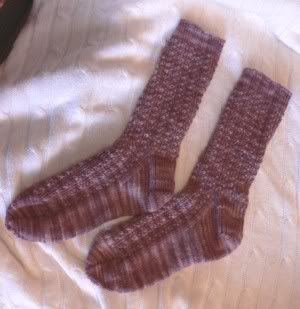 Conway for the KOTR kal are finally finished. I really had to buckle down to get them done. For some reason I couldn't get into them. The pattern was easy and the yarn was nice and smooth, I just wasn't feeling them.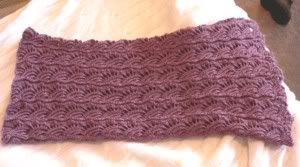 The Flared Lace Smoke Ring is done too! The Baby Silk was an absolute pleasure to knit with and I'm having a hard time letting go of this. I see one in my future.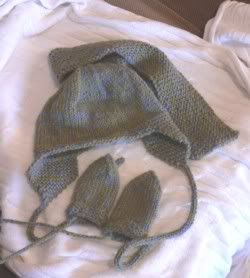 Connor lost one of his mittens one day on a walk. I had backtracked but someone had already picked them up. I hope that one mitten keeps someone very warm. I pulled out Knitting for Baby and two colors of Frog Tree Alpaca and got to work. Too bad the hat turned out big enough to fit Royd's head. I'll toss into the next load of jeans to see if it'll shrink up some.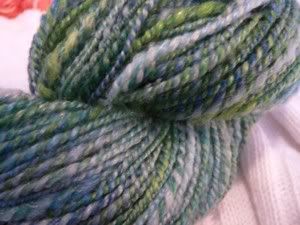 This is the merino/tencel that I had been working on. Lots of thick and thin, but I love how it turned out.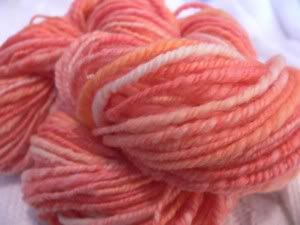 This is the roving that was suppose to be orange, red and yellow. Spun up, it turned into a coralish pink. I tried my hand at Navajo plying with moderate success. It's much better than what I was getting on the spindle, but I need more practice. Any tips on how to make it better???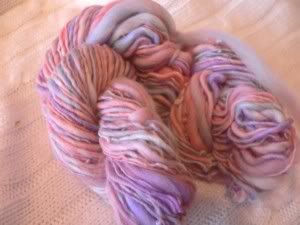 Next, I wanted to practice thicker singles. Yet again, lots of thick and thin, but I really like it. I still have to set the twist and spin the other three ounces, but wanted to sit on it for a few days before I did so. Just to make sure I really liked it.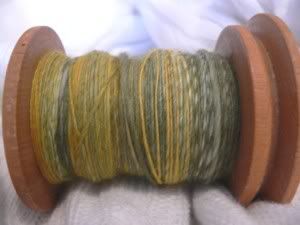 In the meantime, I wanted to see how the green and yellow roving looked. Me likes. I'm hoping to get enough to make the Herringbone Scarf from Oddball Knitting. If not, maybe another hat and gloves for Reilly.
See, I told you it was alot! I'm mulling over my next project to start. There's a ton I want to start, but am trying to prioritize according to need vs. want. Uh, yeah, I'm well aware of a few UFO's. I haven't forgotten.
Edited to add: I finally caved and have joined the masses. Please put yourself on my map!