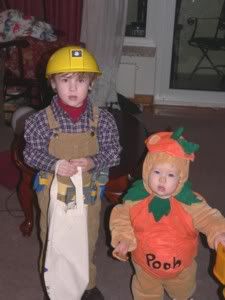 So, I'm a little late in posting the kids in their Halloween outfits. I guess it's just been one of those weeks. Anyway, this was Reilly's first year trick-or-treating and he had a total blast. We only stayed out for about 40 minutes, but he came home with enough candy for a few weeks. This is one of the better pictures (out of about 20) since at least one of them would move at the last second and come out a blur. Notice the looks on their faces says, "Let's go, Mom! I think you've taken enough."

Yesterday I spent the entire day babysitting for a friend. Introduce a 2 year and a 1 year old and the result is absolute chaos. Knitting? Not a chance. I think I fell asleep on the couch at about 9:30.

Much of the knitting I've gotten done this week has been Sneaky Knitting. Thankfully socks can magically get finished in this manor: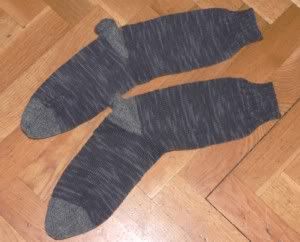 Now he has requested a modified balcalva that has a snap-on mouth covering. For him and all of his guys. Before January 6th. I almost died laughing! I told him that maybe he would have one by then, but nobody else. He must think I'm a machine.
And here's the shawl. Only four more rows before I start the edging. Honestly I probably won't touch it until tomorrow. My house is still recovering from yesterday and I can't even think about doing 30 minute rows right now. What you see in front of it is the start of Connor's Guernsey. I'm using the pattern from Knits for Babies and Toddlers. I've wanted to make this for what seems like forever, but would never think to buy the yarn. Nice easy knitting and it's going very fast so far. That is, if I could ever sit down with it.