On Saturday Kathleen and I met up headed down to Wurzburg to check out the yarn stores there.

First we headed to the Phildar stockist, which I was eagerly looking forward to. It's a shame that it turned out to be a major disapointment. Not only did she not carry much in the way of Phildar, most of it appeared to have been sitting on the shelves for a long time. The rest of the selection was lacking and what appeared to be the best yarn was behind the counter. I'm sorry, but this irks me to no end when I have to ask to see something. Especially in a yarn store, it doesn't allow for the full experience.

Our next two stops turned out to be much better. The second store had a great selection of sock yarn with tons of samples. And not hidden way up near the ceiling either. After that we went to Wolle Rodel, which I have a store near me, but this one is much better. Of course, lots of sock yarn was to be had.

Okay, want to see what I got?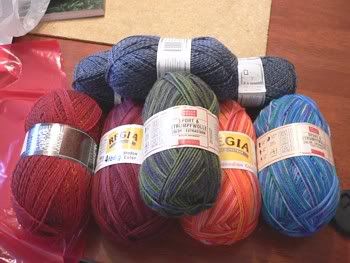 Looking counterclockwise, three balls of blue marled sock yarn for Royd, Lana Grossa Mega Boot Stretch, Regia Shadow Color, Rodel variegated, Regia Canadian Color, and Rodel variegated. Not pictured is 7 balls of Steinbach Wolle Eroica for a guernsey for Connor.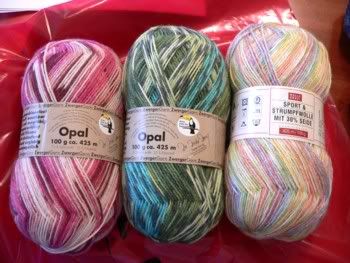 Now, this picture really excites me. Two balls of Opal, Flamingo and Chameleon and a ball of Rodel's silk yarn that looks almost to be a copy cat of the Opal Petticoat. Let me just say that this is the first time I have seen Opal in Germany. I know, it's made here! Granted I don't live in a major city, and selection tends to be a bit less than desirable.
But the goodies don't end there. Kathleen treated me to some handspun sock yarn from a shop near her. These will make a fantastic pair of socks.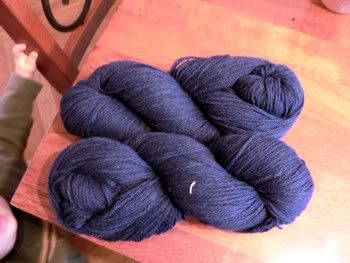 I think I may have enough sock yarn to keep me going for a while. Heck, I can't even fit it all in its storage box. I wonder how many pairs I can make...