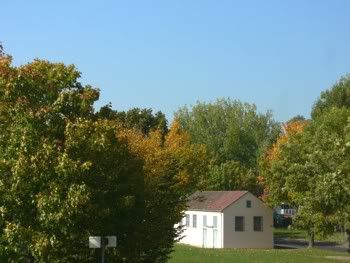 Since I don't have anything else really to show, here's a shot of the nicest view off of my balcony. As you can see, it's absolutely beautiful here in Germany. Clear skies, gorgeous foliage, a three day weekend... what more can I ask for?

Well, a little direction in my knitting. I feel the pressure of holiday and cold weather knitting. There's alot to get done in the next month or so. All gifts must be completed by the the middle of November, the very latest the last week. That way I can avoid the delays of slow mail service. Although I have made a decent dent in this, there are still two projects left.

First, I want to make the Flared Lace Smoke Ring but haven't decided on a yarn yet.
Second, I'd really like to knit a shawl. No pattern or yarn yet.

Then, let's see... what needs to be finished up before really cold weather.

Obviously the Basketweave Pullover needs serious attention
Samus needs blocking, seaming, i-cords and some sewing
mittens or fingerless gloves for myself
another pair of mittens and a new hat for the boys
Conway for the KOTR knitalong, but am not feeling this pattern
Oh, and then there's what I want to knit
Trellis for Connor (swatching is being resisted)
Twist (I have the yarn for this in my stash!!!)
Mariah (I just got the yarn)
The Manly Sweater for Royd (need one more color)

Yikes! I feel pulled in so many directions. I wish this had been the problem a few months ago when there wasn't a thing I wanted to knit.
Sorry if this post was a bit not together. That's just how my brain is thinking right now. Okay, off to finish a hat for Royd I started this morning.