On Sunday I packed up the kids and the hubby and drove out to visit with Kathleen. Of course I had a great time, as always. Look what she sent me home with: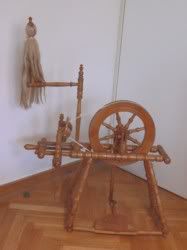 Ain't she a beauty? This is the wheel she scored awhile back, but hasn't even used yet. She's letting me borrow it for a little while. Let me say that, I had never used a wheel before and after about an hour of playing around I had it figured out and was spinning away.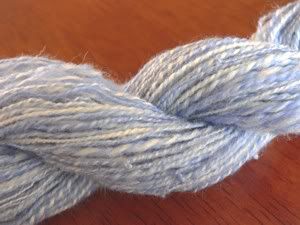 Here's my first mini practice skein. You can see that my plying needs alot of work, but it's alot better than my first try with the spindle. Last night I started with some Merino/Tencel, but after about twenty minutes, I took that bobbin off. I'm trying to practice spinning a consistent thicker yarn(my natural tendancy is toward very fine) and I find this stuff a bit sticky. So, I went back to that Wildberry roving that I still have tons left of. So far so good.
The only other thing I've been working on is mittens. It's been super cold lately and the kids needed some so that they don't freeze their little hands off.