You know that smell... It's crisp and fresh and oh so invigorating. I mean Fall. I LOVE this time of year. The weather is beautiful, the colors are beautiful and the food is super yummy. Oh, yeah, the food! The urge to bake has hit me hard. This week it's been biscotti and apple-pear pie. Later today it will be cheddar buttermilk bread to round out a nice hearty roast. Okay, okay, I really love food.

But cooler weather has also prompted another desire: the need to finish some sweaters. First, I really need to finish the Basketweave Pullover, but I'm not wearing it so it can wait. Right? Second, my (un) Drop-Stitch Cardigan from this issue of IK. I spent two days blocking the thing and then another two days finding some quiet time to do the seaming. So how's it look?

Like crap.

Can we say too big? And no, my gauge (for once) isn't the problem. The yarn and the size I made is. I substituted a silk blend for the wool called for. I knew from my swatch that the drape would be, well, more drapey. I just didn't realize how much. And I think I'm making the wrong size for my taste. This has been the problem with everyother sweater I have made myself.

Okay, my chest measures 43". So, you would think to make the 45"-47" size for a comfortable sweater. The problem that I'm realizing is that my waist is not proportionate to my chest. Which results in this: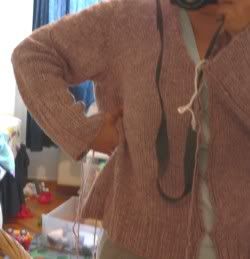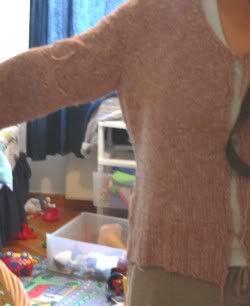 A big saggy mess that makes me look 20 pounds heavier than I am. I don't need this! Heck, I'm trying(hoping) to look 20 less!

So, now what to do? I could rip the whole thing out and knit the smaller size and then put some short rows into the bust. *remember to go research this, Erica* But, this doesn't help with the drape. I guess it'll go back into the Pile for awhile until I figure something out.

Oh the brighter side of things, XMas knitting is on: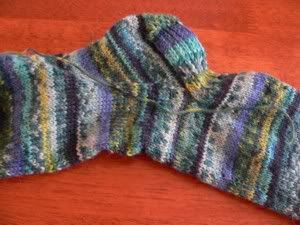 I can't say I really like this yarn, but the recipient likes funky stuff so it'll be perfect. These were originally bought as a possible yarn for my sock pal, but wasn't used. Speaking of that, Neysa reports that she got her socks in the mail, but hasn't looked at them yet. She promised herself that she'd finish her pals first. I haven't heard anything from my gifter yet, but since I know the mail can be pretty unreliable here, I'll give it another week before I worry.
Have a great weekend!