Well, our weekend of fun didn't quite happen. All last week the boys and I were sick and I thought we were over it. Not quite. Reilly spent all of Friday and Saturday layed out on the couch I developed a horrible cough. Just walking the length of our apartment sent me into a horrible fit that would last about five minutes. We were disappointed but there's always this weekend. Thankfully we all feel completely better now.

I spent alot of time knitting, obviously. Samus' body and one sleeve are finished. I haven't casted on for the other sleeve yet though. Instead I'm working on a pair of work mittens for Royd. They're in black and it's such a dreary day that I can't get a picture yet.

And I have a finished object to show! Yeah!

Here's the Leaves and Flowers Shawl that's been done for about three weeks or so and just needed a blocking.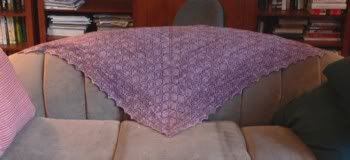 Full body shot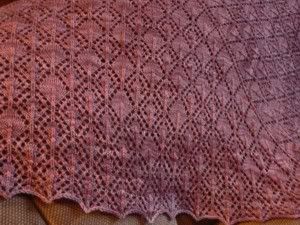 how the pattern looks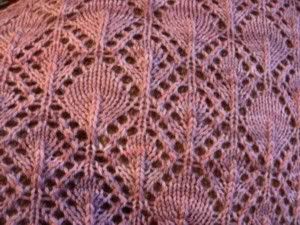 the best representation of the color