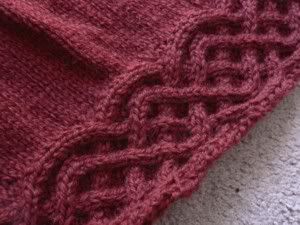 Samus has come to my house to play and refuses to leave my fingers alone.
I started Samus last Wednesday evening and have been having a hard time putting it down. I've already divided for the armholes and am almost finished with the left (maybe the right?) side. Cooler weather has made me long to wear this sweater. I guess I better get over my fear of zippers once and for all.
Next up, I'm in a search for what yarn to use for either Mariah or Rogue. Both have been on my want list for quite some time, but never happened. Also, Royd has decided that he wants an Aran sweater, so I need to find a pattern and yarn for him. I guess he better take me shopping this weekend!
I suppose it won't be a problem for that; we've got the time. He took off four days for our anniversary (tomorrow), but he's in the field and won't be home until late. Originally we thought to go somewhere to get away, but with money being a little tight lately, we decided not to. Instead we'll save the hotel money and do some local day trips and maybe get to come home with some souveniers.
Almost forgot (again) to mention these socks:
Trekking XXL in color 105