Ok. I'm lazy. Sure I could go count, but that would be too hard. I'm also way too lazy to go take a bunch of pictures of what I've been up to, so today it's just the spinning.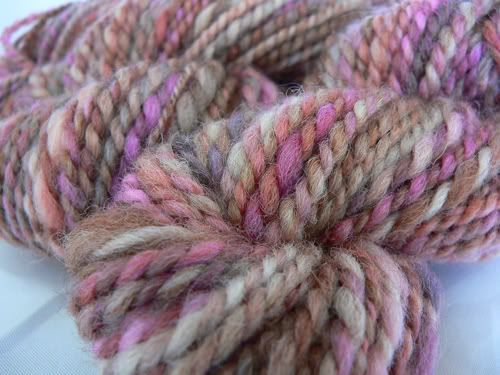 Wool: "Crabapple" BFL from Hello Yarn
Stats: 172 yards, chunky weight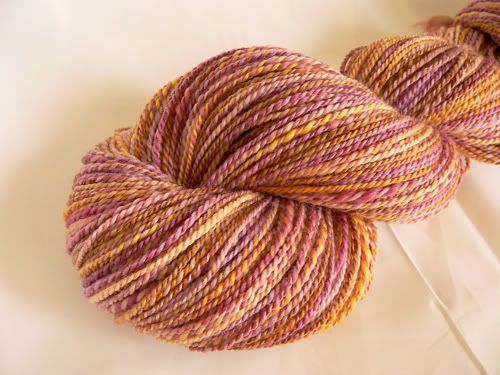 Fiber: "Royale" Superwash Merino from Funky Carolina
Stats: 310 yards, sportweight

This will become a pair of socks no doubt.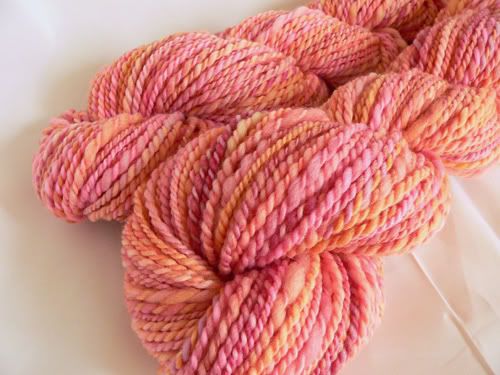 Fiber: "Feelin' Pretty" Finn wool from Flawful Fibers
Stats: 190 yards, chunky to sport weight

Wow, Finn is nice! As soon as I can justify another wool order, I'll be including alot of this to play with. I really wanted this to be a nice thick yarn, but it kept telling me to go thinner. I managed to force it into submission for the most part.

Also, the color is way off. It's much softer in natural light. Funny, it looked great when I saved it, but who knows what happened.

I promise to include some knitting next week, since there has been a little. See you then!