In my wanderings across blogland, I noticed that some people that are spinning along in Le Tour de Fleece had set some pretty big goals and challenges. Me, not so much. Here are mine:

1. spin something boy appropriate
2. spin one new fiber to me
3. finally finish that merino/tencel that's been in the works for way too long
4. not buy any new rovings

That's it! The best part is that I've already knocked off two of them.

I've already broken Goal 4, but it was all things that were on sale and I would never dye myself... Okay, I'm just weak.

Goal 1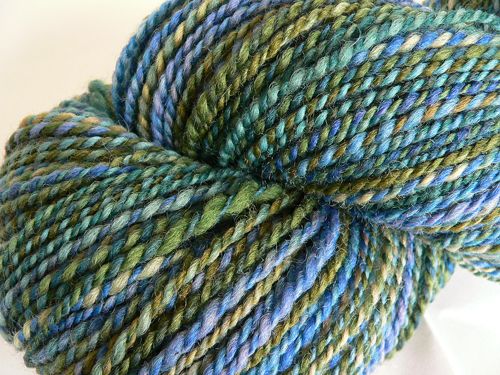 Fiber: "Summit" Falkland wool from The Yarn Wench
Stats: 242 yards, 3.3 oz., bulky weight

Although there are streaks of purple, which I consider more feminine, it blends in very nicely and I think this will become a nice hat or scarf.

Goal 2



Fiber: "Kimono" merino, alpaca, silk and angelina from Loop
Stats: 256 yards, just short of 3 oz., mostly fingering/sport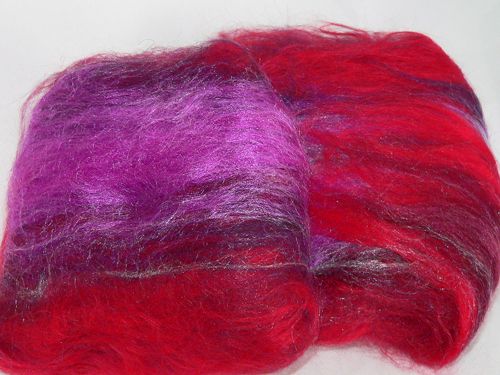 This is what the batts looked like prior to spinning. This particular blend was a challenge to spin. At times the fiber spun so nicely and flowed through my fingers, and then it would just clump up and not budge. It also drifted apart causing my pants to become quite red. I'll have to remember this next time I use such a blend because I've got a few others that are quite similar.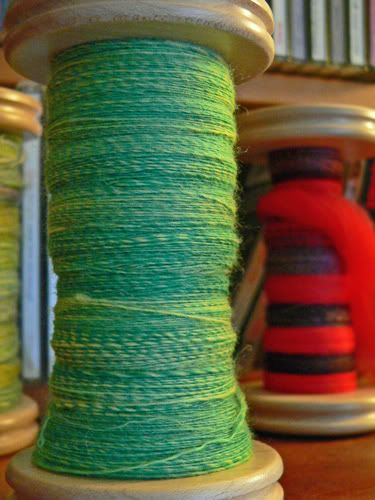 This is what I'm working on now. I'm testing out a blend of my own that are going to be for socks. Right off I know that I need to add some more nylon because I screwed up my calculations. Really, this is basic math and shouldn't have been messed up. Oh well. I spent all day yesterday dyeing over two pounds of solid colored superwash for these blends. Once they're dry and I get to blending, I'll be sure to let you know.

In other shop related news, I did a HUGE update this past weekend. Since I have limited space for storing stuff and need to make room, I'm running a special on shipping (see store announcement for details) and to sweeten the deal, I'll even throw in a special offer for my blog readers. Just mention "knittinmama" when you pay and I'll take off 10% one item (highest priced and offer expires 7/20). You can either request a revised invoice or if you don't want anyone to snatch it from under you, just pay and I'll refund you.

Okay, self promotion over. I've got to go get the boys ready for some errands. Have a great weekend everyone!