It's all about the spinning right now. Yet as much as I'd like to all day long, other little people have other things that they'd like to do. Since the sun has finally decided to visit Germany this summer, the playground and parks beckon. I needed some nice mindless project that would be easy to tote around as I wander behind them. Socks are out right now since I'm having a bit of boredom with them.

These came into the picture as the next best thing: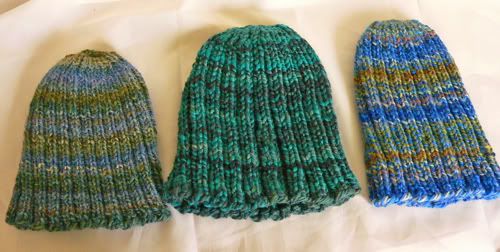 All were knit from recent handspun and all followed the basic pattern, Hot Head from Stitch n Bitch. All had different gauges than the pattern suggested, but were an easy enough modification. They also look adoreable on the boys, but pictures were out of the question. It's simply too hot for them to leave on for more than a quick try-on. Now that the required blue hats are finished, I can make some fun ones. There'll also be matching or coordinating mittens in the future. I just am not in the mood for thumbs.

Being the true sports like person I am (ha ha, not really), I've been busy doing my pedaling.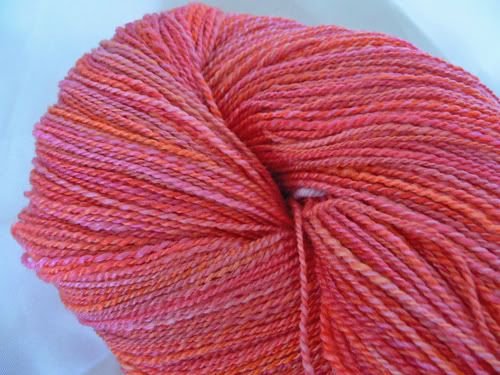 Fiber: "Hibiscus" 4 0z. merino/tencel from the Susan's Spinning Bunny
Stats: 658 yards

You may have remember me mentioning that I was going after fingering weight with this one. Oops. Well, it's my first laceweight that hasn't sucked or fallen apart during plying so I'll take it. The colors are bright, so I'm not sure what to do with it. I'm thinking maybe a very simple lace scarf. Well, we'll see.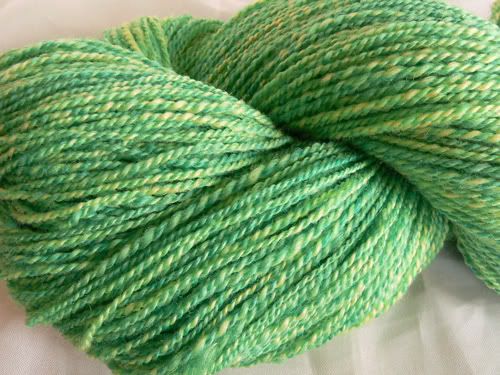 Fiber: superwash merino and nylon with angelina
Stats: 468 yards

That's better! I'm glad that I decided to test the blend out before selling it. Not only did I have to up the nylon content, but I got to see how much sparkle the angelina adds. Although I wasn't going for alot of bling, I would add more in the future.

Speaking of sock batts, they're up for sale! I only managed to get two different ones done, since I haven't had much time to play this week. Hopefully this weekend I'll get to. Here's what I've come up with so far.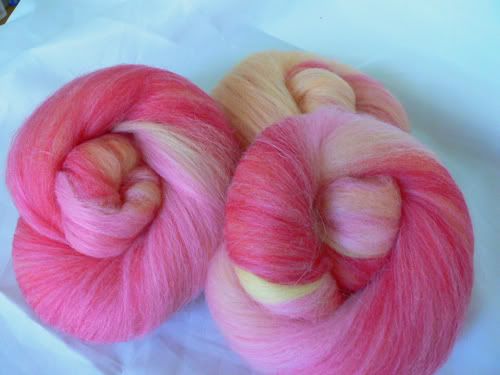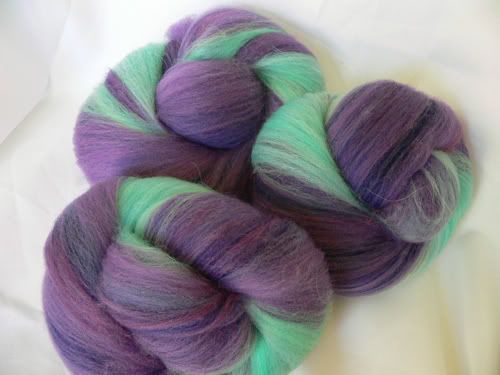 Oh, and just so that y'all know how bad the sickness is, these were in my mailbox this morning. Yum.