I have survived the past five days since Royd went back to work. Granted, the kids may be in their jammies a few extra hours a day, the laundry is way behind and I really need to do the bills... But, we're getting things done. I was surprised that I get more done with him being gone. Okay! Maybe this shouldn't considering that he thinks he's allergic to housework. ;)

Since I've got five minutes to spare, I thought I'd share a few things.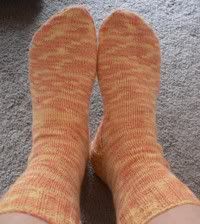 Pattern: My usual
Yarn: Gedifra Happy Cotton, color 2027
I love these socks! I have a bunch of Regia and I've never finished a pair since the yarn was so stiff to knit with. This yarn is so soft and flexible, that I may rethink cotton yarn. The next picture shows the colors off better.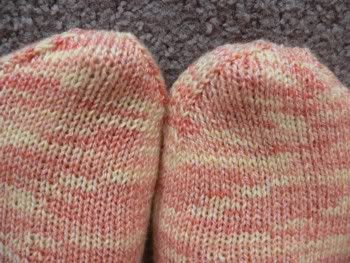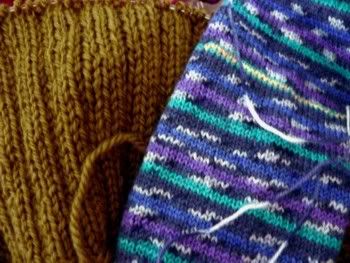 I also started Ribby and another pair of socks (go figure!). In case anyone is wondering Mariah hasn't disappeared from the knitting basket. I just need to order the zipper and then I can stress about that.
Last but not least, I have finished the Sockpaloooza socks, but forgot to take a picture before dunking them in the wash so I'll have some next week.
Have a great weekend!