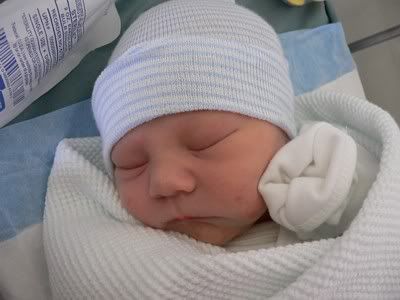 No, I didn't disappear off the face of the Earth, I gave birth to this little guy. Meet Marc Andrew who was born on April 5th. Long story short, I went to an appointment that morning and wasn't allowed to leave. This turned out to be a good thing since after the doctor broke my water, he was delivered an hour and a half later. No autobahn births here!
"Having my hands full" is the understatement of the year. This little guy certainly keeps me busy with hourly feedings and crying like I've never experienced before. But each day gets a little easier and he now has discovered that he can have his eyes open without screaming about it.
Reilly and Connor are thankfully in love with him. Connor is all about giving him kisses and "helping" whenever he can. Heck, I can't even get kisses!
Of course with all this time nursing, there's been alot of time to sneak in some sock knitting.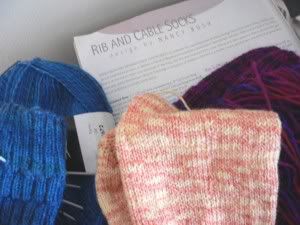 Three pairs almost done.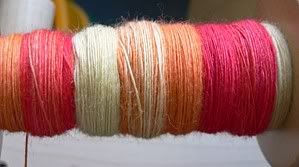 There's been a little bit of spinning too, but not much.
This is some BFL I dyed before Marc was born with Koolaid. I think I used Cherry, Lemonade and Orange. I plan on Navajo plying it and making some socks with it. I also dyed the following for some more socks: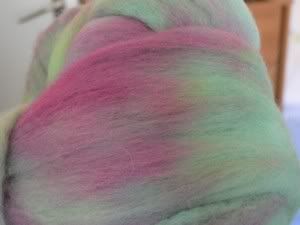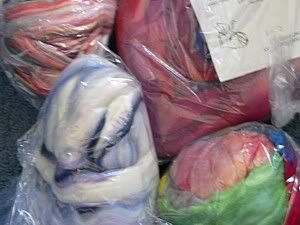 These are my latest fiber purchases. Two bags of merino, two bags of corriedale and one of a silk hankie. Please remind me that I have more than enough fiber to spin for a long time!
Well, children are calling me. I'll keep you updated when I can find downtime. I leave you with one more picture of Marc, taken just a few days ago.