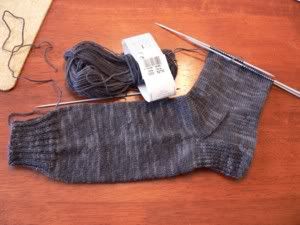 Royd's sock was making great progress. Was. There is still almost two inches until I start the toe shaping and I'm going to run out of yarn. I had hoped that it would make it to the toe and just use some plain grey to finish up. No chance of that, so I'll be frogging this up to the heel and using the grey to do the heel too. I hope that this works. I really don't feel like going back to the store to get another ball and hope that there is one in the same dye lot.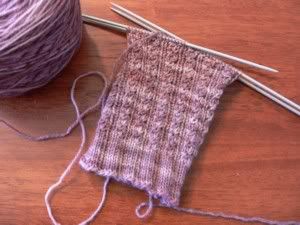 Conway has been restarted in another yarn. If it looks familiar, well, it is. I had alot of yarn left from the Leaves and Flowers Shawl. Almost 180 gms.
Michelle (sorry, I couldn't find your email link) had asked which yarn I was using originally and it was Knitpicks Sock Garden in Geranium. I tried it with 72 stitches and then on 66 with a larger needle. Neither one would work for me. It was doing that pooling thing where the small bit of green was right on top of itself round after round. It wouldn't have been so bad if it were solid but everyother round was broken up by the red. It just looked bad. It's okay, though, I really like how these are turning out.
In other news, I heard from my sock pal this morning. All is well and she didn't forget about me. I was so worried that they were lost in the mail. I can't wait to see them!