My husband is yet again off playing in the woods with explosives, so I've been getting to play the single parent roll all this week. Can I say that I'm tired? Everytime he goes away, I think that I'll get time to do some serious knitting and housework. It never happens that way. Instead I end up doing errands around town and creating ways to keep the kids busy. You know, it's not like when he's here I get that much out of him, but that hour he plays with the kids really helps me and my sanity out.

I've had some things to show, but haven't had the time to get a post together. So, here goes:

First, I managed to finish spinning some singles and plied them together. If you look closely the skein on top is much loosely plied than the bottom. I had a bit of a "duh" moment when I realized that if I screwed the whorl on too tightly, then the bobbin can't spin freely and wind the yarn on fast enough. So that's why the bottom one is so tight. I still have to set the twist, so I'll see what happens after.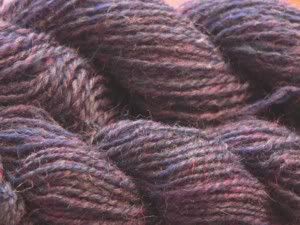 I also have done some more spinning. This is the merino/tencel I mentioned in an earlier post. I have one bobbin full and think I have enough to do another full one.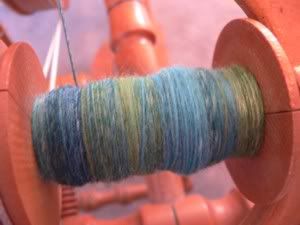 One of Conway is finished. The second is just kind of sitting there. I'm bored with the pattern. Royd's heel has been re-knit and is awaiting a fitting. I went with a short row heel in order to save on the main yarn some more. I just want to make sure that he likes how it feels before proceeding any further.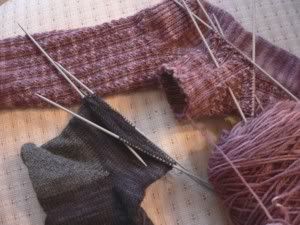 The yarn for the Xmas shawl came and I resisted casting on for one day. The plan was to finish the Basketweave first and then I could start. All I need to do is knit the turtleneck, but my 16" 4.5 mm's are nowhere to be found. I looked! Really I did! Furniture was moved, my stash room was torn apart and put back nicely, danced were done to appease the Knitting Gods-all to no avail. Funny, I never use these things and can't remember the last time they would have been.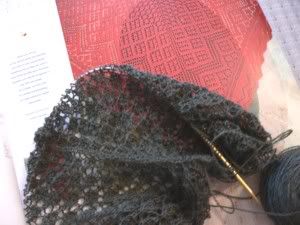 Today's a pretty gloomy day and there is no justice being done to the color of the yarn I'm using. It's Knitpicks Shadow in Lost Lake. It's quite a pretty green in real person. Perhaps when the sun comes out I can get a decent shot of it.