Well, so much for our three day weekend. Royd ended up having to go into work yesterday. I'm just a bit annoyed. Long story short: Thursday everyone at the company got off at noon for a Family Day Barbecue, but he had to work at one of the ranges for a 24 hour shift. Okay, technically he got Friday off, but since he slept until 4pm, I really don't think it counted. Then with having to work on Columbus Day, he just got screwed out of what should have been a 4 1/2 day weekend. I sure hope everyone else in the company enjoyed their time.

I guess I'm just fed up. It seems like just about every other long weekend, he has to work. I wouldn't mind so much if everyone else was too, but it just isn't that way. Anyway, I guess enough with the venting.

Since we didn't get to do what we had planned yesterday, I got to finish quite a bit up.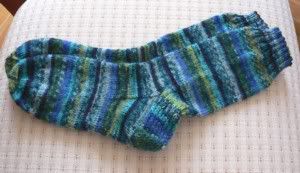 First, I kitchenered the last toe on these bad boys and wove in the ends. They just need a blocking. The yarn is Four Seasons' Marathon Tango.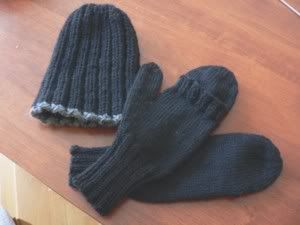 After sitting around for a few weeks, I finally got Royd to try on the dang mittens so I could finish them. I wanted to make sure the thumb fit exactly since they are for work. I used a pattern from the 2005 Knitting Pattern a Day calendar, November 1st. Both the mittens and the hat used black Woolease. The hat is the Hot Head pattern from Stitch 'n Bitch.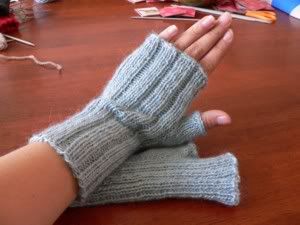 And then I made these for myself. I made up the pattern as I went along, adapting it from what I know about mittens and how I wanted them to fit. The hardest part was trying to decide if I wanted a pattern on the front or all in ribbing and which ribbing to use. I finally settled on a 3x2 rib. The yarn is Classic Elite Miracle in a blue color(misplaced band to blame) and used just over a skein. So soft and warm!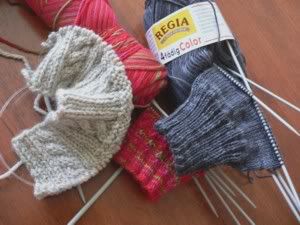 Then this is what I casted on for: Mariah, Conway and a pair of socks for Royd (yes! He finally agreed!) But I may put Mariah away for awhile. I ordered the yarn for the last two Xmas presents I have to make and don't think I'll have time to mess with it until after I finish. I don't like having more than one charted pattern on the needles at a time, I just get confused. Even if I indicate where I left off. Conway needs to be ripped out too. The first time I casted on with the 72 stitches called for at gauge called for. OMG, they were huge and floppy! So, I took out six stitches and went down a needle size. Now they fit, but the pattern gets stretched out too much. I guess I'm more comfortable with the twisted stitches and my knitting has gotten tighter.
Now I just need to decide which sock will get more attention.