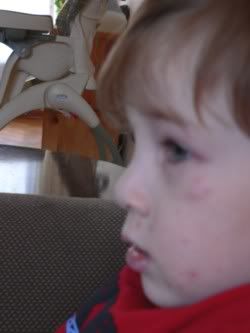 I do believe we have a problem. I do believe that chicken pox has just invaded my house. Yuck!

Since I don't see us going anywhere for the next few days, progress should be made on the shawl. I forgot to mention what pattern I'm using, it's the Shaped Triangle from A Gathering of Lace. Only five more rows to go until I start a new pattern.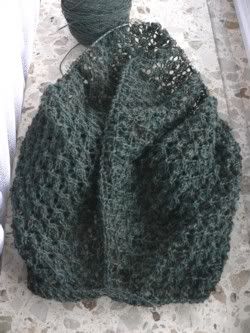 Mostly I've been splitting my time between the shawl and Royd's socks. But today I couldn't get into either one of them. For some reason I've been itching to try out the Multidirectional Scarf the past week or so. I ended up grabbing some rainbow striped Gedifra Scarlet and casted on. I have four balls total, but only used two for a child sized scarf. Maybe I'll make another, maybe I won't. It'll go into the Dulaan box.