I'd bought two pounds of merino roving a few months back with the intention of dyeing it. Finally this weekend I dragged it out of it's hiding spot and got to it. I wound off four portions into four ounces each and tried out some different colorways.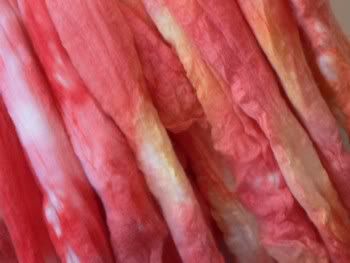 These are the first two. On the right I was going for different shades of pink with a little purple thrown in. On the left was suppose to be bright red, yellow and orange. Neither turned out exactly as I'd hoped. There's still a lot of white left left in the roving.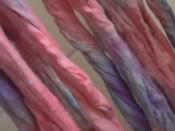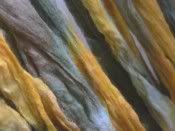 Try again. Here the purple and pink thing went slightly better. I'd run out of grape koolaid, so had substitute Wilton dye. You can't really tell from the picture, but where the purple didn't saturate enough, it turned blue. I think I like it though. The yellow and green turned out pretty much how I thought it would. I can't wait to see how it all spins up.
There has been some knitting too, just not any pictures today. The shawl is off the needles and waiting to be blocked, sometime later this week. I also started on the Flared Lace Smoke Ring in Elann's Baby Silk. It's not going as fast as I'd thought it would, but love working on it. The yarn is so soft and smooth-an absolute great tactile experience.
Well, Royd should be home tonight from his last two weeks in the woods. So I've got lots to do before he walks in the door and creates a whirlwind of dirt and equipment.