I cannot wait until this week is over! It's my busiest week for the holiday season. All those presents I have to mail back to the States must be sent by tomorrow. That's according to Post Office's deadline. I waited until the last minute to block, so we'll see if everything dries in time.

I'd had a request for a pair of mittens, so I did these over the weekend.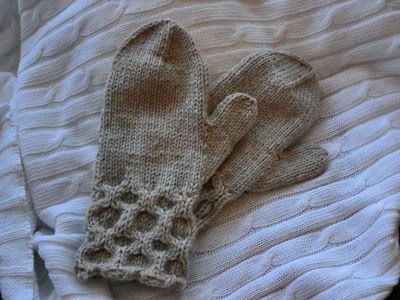 Pattern: Cabled Gloves from One Skein, modified to a mitten
Yarn: Patons Classic Merino in Natural Mix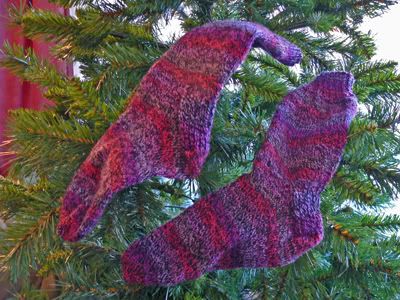 Yarn: Online Highland Color
Pattern: Plain Vanilla Socks on 64 stitches



I also finished these up a few days ago. Nothing too exciting. Notice they're lounging on a not decorated tree.

There's a story here.

Last year Royd and I decided to purchase a artificial tree for when the kids are small. There's no water to worry about them getting into, no finding a truck to borrow to transport the live tree in and no sawing. Granted, I don't like nearly as much as a real one but for a few years, I can deal with it. Anyway... when we went to go buy one, Royd really wanted the pre-light kind. So, that's what we got. On Monday I dragged the thing upstairs and got it up. I figured that I wouldn't decorate it yet to give the little ones a few days to get used to it before pretty shiny things started grabbing their attention.

Tuesday, I go to plug the tree in and half the lights aren't working. After about a half an hour of playing with the fuses and bulbs I discover there's a faulty cord. Well, shoot. Okay, easiest solution is to just replace that particular cord, right? Yeah, but that's only temporary. Instead I'm taking every single light off the tree. Each individual light is ATTACHED to the tree. 500 of 'em. Only 300 to go.

No one ever said I do things the easy way.

Going back earlier in the week, on Sunday the boys and I headed downtown to the Weinachtsmarkt (Christmas Market). I hadn't been planning to go until this coming weekend, but it was nice outside and decided to seize the perfect moment. Our town is small and the market is just as small, but I picked up lots of great stuff. Most of it was decorations that I will show another day, once they're put out. For now they're safely tucked away from little hands.

I did find a stall selling sock yarn!!! But what I really liked was my new knitting basket.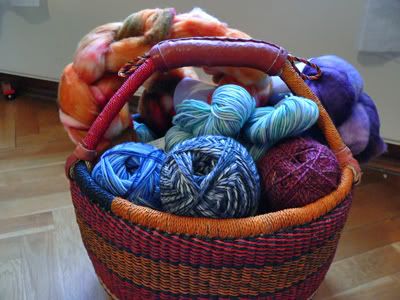 Okay, so it's not the best picture of the basket, but you get the idea. The balls of yarn in front are Regia's new lines: Sierra Color, Country Color and Royal Color. None of it's for me. Reilly picked out two for himself and one for his daddy. The other stuff in the back, wasn't from here, but Spunky Eclectic. Yum.

Now it's back to those dang lights.