I certainly did not plan on stepping away from the blog for so long! Since I last posted Reilly has started school and that really threw my schedule out of whack. I didn't expect it to, but the adjustment was hard than I thought. We're now into the third week and we've all gotten settled but it's still pretty hectic. The redeployment countdown keeps getting smaller and I keep finding more things I'd like to get done before then. On top of that his parents will be here a week before he gets home. Unfortunately they will miss each other, but their presence will keep me busy and from going out of my mind with anticipation.

Stealing moments for my knitting and spinning has become the new norm. No longer can I sit down and knit while the kids play in the morning. Naptime is also busy with chores. I suppose that once my husband is home and he takes on some of the household duties there will be more time.

However, I have found the time to finish up two knitting projects. Yay!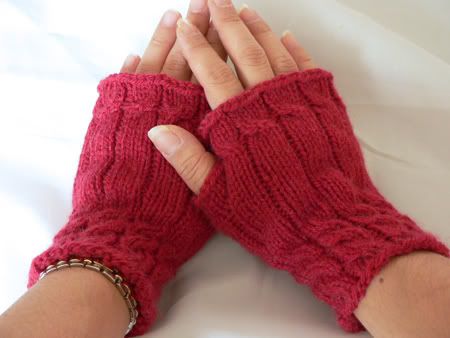 Pattern: Fetching
Yarn: Bouton d'Or Ksar



These were a nice quick knit and will become a faithful companion on those early morning walks to school until it gets really cold. Guess I better start a pair of mittens soon because it's getting cold already!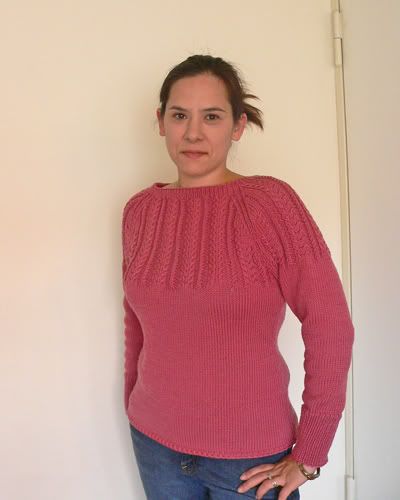 Pattern: Wheat-Ear Cable Raglan, Interweave Knits, Summer '07
Yarn: Tahki Torino, color 124



When I first saw this sweater I knew I had to have it. Right after I got my copy Webs was having their anniversary sale and happened upon an awesome price for the exact wool used. Heck, I even used the same color because I thought it was a gorgeous color and it's one that not too frequently shows up in my wardrobe. I'm glad I went for it. The yarn is super soft and I really like how the color looks on me.

I did however have some issues when I knitted it up. First, my gauge was slightly off. Knowing this, I went ahead and figured I'd leave a row or two out every few inches. Well, when I finally bound off for the neck and tried it on was I in for a surprise. It was a turtleneck that was at least three or four inches too wide . Boy did that look funny. Yeah, I had to rip and reknit the entire yoke with faster decreases and a smaller needle. I think the end result is better, not great, but I'm happy with it. It's still a big on the big size and I should have made the smallest size with short rows in the bust. There's some flaring at the underarms, the sleeves are a bit bigger than I'd like and it sits kinda funny on my waist and hips so that it gives me "handlebars". Ok, so maybe I do have them, but they're nowhere near that big! :)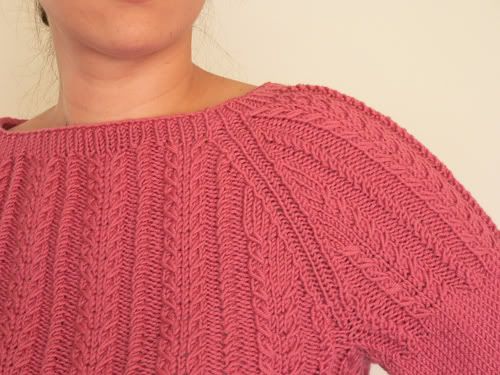 All in all, I'm happy and have learned some things along the way. First, I need to remeasure my entire top side, not just that one number in order to make things fit better. Since the last time I've made a sweater there's alot less of me and I have a hard time figuring out what size the new me wears. Hopefully my next sweater will come out much better. Especially since I've already casted on!

I know that Autumn doesn't start until next week, but it's already here in Germany. The leaves are changing and the air has started to take on that wonderful crispness. It's my favorite time of the year and I'm feeling the urge to bake. Yum! Since I'm in a very good mood, I'm throwing a sale in my Etsy shop until the end of the month. Be sure to hop on over and I hope you find something you like. I suspect that with everything going on I won't be updating there much for the next month or so.

Well, there's spinning to talk about as well, but I'll leave that for another time. Happy knitting!