Well, the boys succeeded in their mission: get me sick. I spent the better part of three days with my butt planted on the couch. That is, in between cooking, cleaning and playing with the kids. I believe I heard my husband mutter something about it being his weekend and wanting to relax. Ha! When do I get a weekend to just sit around? Yes, what you witnessed last week was truly an exceptional event.

I did manage to drag myself to the flea market across the street on Saturday. It's an annual event and huge. I couldn't not go! There was your usual crap, overpriced junk, antiques that would't last a day in my house and of course the beer tent. In between all this, I did manage to find something of interest: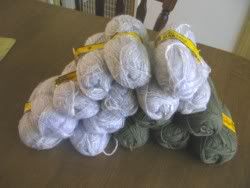 Look! Old yarn! I mean, just look at those labels: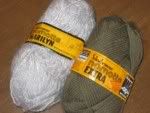 I also saw some really old and really decrepit spinning wheels. I thought about it for about half a second and then realized that it would probably cost a fortune to fix them up. There were just too many parts missing.

Onto knitting progress...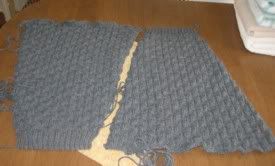 That would be two sleeves of the Basket Weave there. You know what that means-start something new! No, really I have to block these bad boys and have a little seaming party with myself. Ya'll know how I am about finishing, so we'll just leave it there.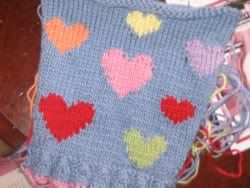 Yup, we also have one sleeve of the Heart-Motif Sweater. Which brings me to thoughts of finishing this up. Here's a question to anyone who's done this kind of stuff before: should I weave in the ends before or after blocking. I remember reading somewhere which way was best, but do not recall where. Any ideas would be appreciated.