I've been trying to stay faithful to the current projects on the needles. For over a week I've remained vigilant and worked on two pairs of socks in anticipation of the start of SoS. I'm not competing for the most pairs done, but would like a fresh start when it begins. The problem began when I received my yarn last week for Picovoli. I was good and put it away along with some Luna and went about my business.


Yesterday I caved and merrily have been knitting away on some delightful stockinette in the round.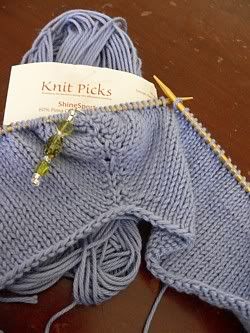 Surprisingly I'm enjoying working with this yarn. Although it's mostly cotton, it has just enough give to not cramp my hands up. I can't wait to wear this!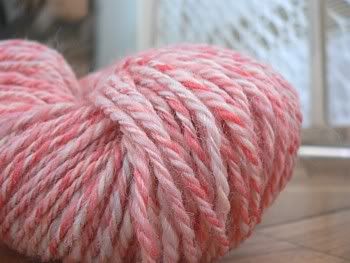 My first three ply is almost done. I need to dye up another half ounce to finish what's left on two of the bobbins. Although I carefully weighed the roving before I spin it, I kinda lost out due to inconsistant spinning. One bobbin was spun just a bit thicker than the rest so I lost some yardage.
Somehow something else ended up on the wheel in the meantime.
This is merino/silk that I'm spinning at over 40 wpi (my control card doesn't go thin enough!). Can we just say that it'll take me forever.