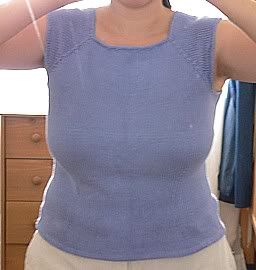 Pattern: Picovoli
Yarn: Knitpicks Shine Sport, Hydrangea
Do you have any idea how hard it is to take a picture of yourself that is semi-flattering (three kids and age have really taken over for the worst) and in focus? I tried to get the hubby to take some, but he really couldn't be bothered.
Here's the details. This took less than two weeks to finish and could have been done sooner, but I had to rip out a few inches. I decided to incorporate some short rows to give me a little bit more room in the bust but had put them about four rows too low. That lost me two days of knitting. Then there was the inconvenience of the kids being sick. To keep the edges from rolling I used a hemmed edge on the bottom and single crocheted around the neck and sleeves. Overall it was a great little knit that I may use as a template for a future sweater.
The yarn was great to work with as well. I'll definetely be using it again and am coveting some of their worsted weight.
Since casting off I've been working on the Manly Sweater while I contemplate my next project for myself. (No rush to finish his sweater since he won't need it for quite awhile) I'm waivering between a lace stole or a t-shirt. Front runners right now are Print O' the Wave Stole, Nothin' but a T Shirt, or maybe even Chickami. I almost forgot, I'm thinking about Soleil too.

Here's something to check out.
Speaking of, obviously Royd hasn't deployed yet. We still don't know when but it won't be for at least a month. Everythings up in the air as of now. Which means we can't make any plans farther than a month in advance. I'm starting to get frustrated because we're due to move back to the States in May, if he's not deployed. Of course, if he goes downrange, it means that we'll move after he gets back. The thing is that the longer he's just sitting here waiting to find out if he's going or not, means our move could be delayed more and more. Does that make sense?
As much as I have enjoyed the opportunity to live overseas, I'm getting about ready to go back home. I miss it.