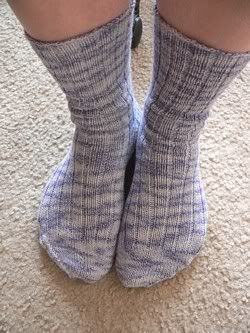 Yarn: Lana Grossa Meilenweit Cotton Fun
Pattern: top down on 64 stitches with a 3x1 rib
I finished these up on Friday minus weaving ends that was done today. Nothing special to say about these except that I used over 45 gms on each sock when I usually use less than 40.
With these finished, I quickly dug through the sock stash and pulled out a few more balls.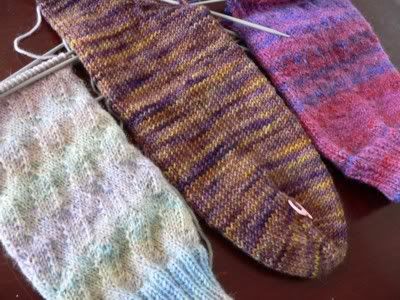 Now I have Trekking, Koigu and handspun to occupy my time. I think they're a pretty good mix to keep my attention. The handspun is a bit hard on my hands to knit (I'm doing them on 2 mms to get a really tight fabric) so I'll work on the Trekking to give my hands break. Then when I don't feel like concentrating, the Koigu does the trick.
Haven't gotten much knitting done since Sunday though. Poor Marc had to have his first round of shots yesterday and they hit him pretty hard. He'll try to smile and be cheerful, but he can't help whining through it all. Tylenol and cuddles to the rescue!