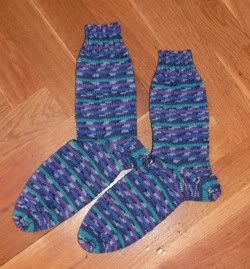 Yarn:
Rico
StrickSpaß SUPERBA Color
Pattern: top down with afterthought heel
I picked up this sock yarn awhile because I had never seen it before, it was soft and the colors spoke to me. My initial take on it was that I thought it looked similar to some Regia or even LB Magic Stripes. The softness of the yarn called out for me to knit it up and I did so soon after it came home. I started out with the intention to do my usual top down sock, but as the pattern emerged I knew that this would be a good candidate to try out the afterthought heel.
Look at how pointy that heel is! Hmm. I'm glad I tried the technique out as I think it's a good one to have in the arsenal, but I won't be doing alot of them based upon the fussiness of it. Things I would do differently next time: work heel on 60% of stitches for a deeper heel and a central double decrease for a prettier seam.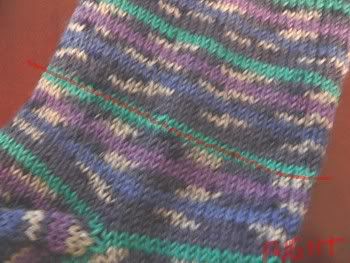 The pattern turned out to be quite different than I imagined. I had to do a little research to see how it was "
"suppose"
to look. The top is what I was getting and the bottom is what I had to force. In order to get this I had to knit significantly tighter on those bands of blue and white.
I didn't think I'd be getting these done for awhile but last night I realized that my June socks for the Sock-a-Month Knitalong weren't completed. So I quickly got to work picking up stitches and finishing the heels.
I think the next pair will be some purple cotton that are almost done.