Spinning in fits of five minutes here and ten minutes there has really paid off. In this time I have managed to get this done:
8 oz. Corriedale Roving from Winderwood Farms
664 yards, approx. 16 wpi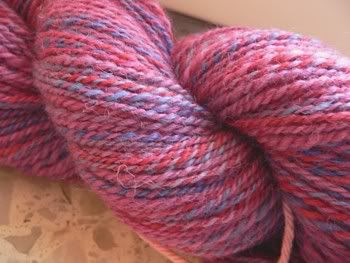 Okay, I admit, I did wake up at 5am the other morning and get 2 hours in before I had to stop, but that was only once. Now what to do with it all? Maybe socks. Or a scarf. Or maybe I'll let it sit on the bookshelf for inspiration.
I just have to promise myself not to start anything new until I get at least one pair of socks finished. I have three pairs in the works and can't quite get the energy to finish any of them. Instead I've been focusing what little time I do have on Ribby. One sleeve to go!