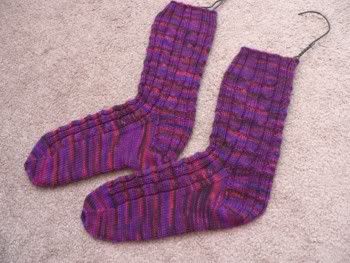 Pattern: Rib and Cable Socks, Interweave Knits Fall 2005
Yarn: Mountain Colors Bearfoot "Wildflower"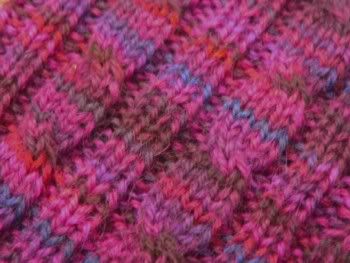 Close up of ribbing, first picture is better for color accuracy
Okay, I know I haven't really talked about these all that much. It wasn't so much that I wasn't excited about making them, I just had a hard time focusing on them. My pal had specified that she didn't like lacy socks, so that narrowed down patterns by alot. I knew that I wanted to have some sort of ribbing to ensure a good fit, but couldn't decide upon a pattern. Initially I had dismissed this one since I had done these for my last pal. Finally I realized that it's a great pattern and there wasn't a reason not to make them.
As far as picking the color goes, I goofed. I had meant to order Wild Raspberry, but clicked the wrong button. When I first got the yarn, I thought it looked funny but just tossed the yarn onto the shelf while I waited for the right needles to come in. Well, I didn't get to the knitting part until after Marc was born and then it was way too late to reorder the yarn. So, I forged ahead and think they turned out nice. If she hates 'em, well, then I can redo.
I've been spinning whenever I get a few free minutes. Next time I post, I'll give you all the details...