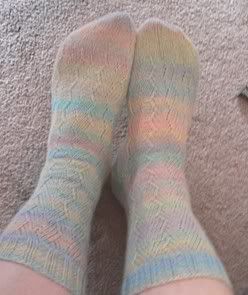 Pattern: Melanie's Twist Socks
Yarn: Trekking XXL color 106
I sucked it up and finished 'em up. Not for a lack of love, I just wanted them done. I looked through my WIP basket and realized I had way too much in there. My earlier cast on craze left me with lots of projects and not enough time. I found myself consistently cycling through them, but progress was scant. I figure if there's less to work on, the perceived progress is greater.
The original pattern didn't specify left or right increases or decreases. I left the increases at a simple M1 left, but subsituted a SSK on the first half of the pattern repeat. I thought this resulted in a clearer twist and also helped me keep track of where I was. Instead of my usual heel, I used a Eye of Partridge and think it turned out quite pretty.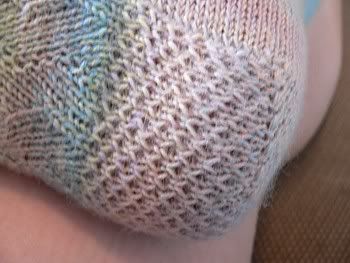 Hopefully next week I'll have Picovoli finished. I have to rip a few inches out due to a miscalculation of the placement of my short rows. Other than that, it's looking good! Now, where did I put that other skein of Koigu...