My favorite sweater to date!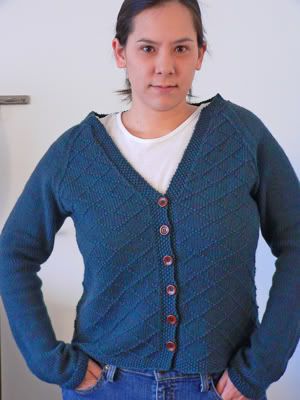 Pattern: Lucy in the Sky
Yarn: Cascade 220, color 4007



Just as I suspected, I love this sweater! In all it only took me about two weeks to knit and then another two to finish. The finishing wasn't procrastinated as usual, but I had been waiting on the buttons in the mail. On Friday I got them and then set about weaving ends and attaching the neck band. I do need to reblock it though. If you look at the neck, you can see that where the front meets the sleeves, it's a bit distorted. I couldn't find a good way to block the entire thing altogether without it doing that. Once that's done, it'll be perfect. For now, it's fine for me.

The color is also off in both pictures. The best representation is in this post.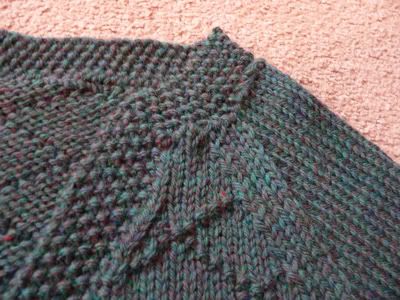 I spent most of my free time this weekend working on the Entrelac Scarf and it is now about 3/4s of the way done. I'm still debating on fringing it. I'll probably play around with it and see how it looks.

The rest of the weekend I poured over patterns trying to decide on my next big project. It seems that I either have the pattern and not the yarn, or the yarn and not the pattern. True, I do have two sweaters that are all set to be cast on for, but I really don't feel like either of them. I'm thinking I'd like to save Saffy for summer knitting when it gets hot and I just can't get excited over a sweater for the hubby right now.

Hopefully I'll make up my mind soon. Oh, the decisions!