Yup, I finally sucked it up and finished Reilly's sweater.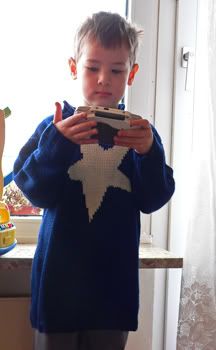 Pattern: Hero from Pipsqueaks
Yarn: Den-M-Nit



Oh, it's only been about, um... since August. My, I've been bad! For the past two months, all it's needed is a seaming. It feels so good to have it done though.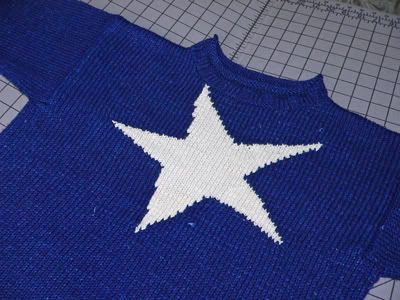 I've been in a bit of a finishing mood lately. Currently there are two sweaters that are slowly getting put together, two pairs of socks that are almost done and I've been contemplating finishing two more sweaters. If you couldn't tell, I have serious issues with this last step. It's so much more fun to just cast on for something new.

In fact, so much fun that I did just that last night. In defense, I needed something new to get me excited.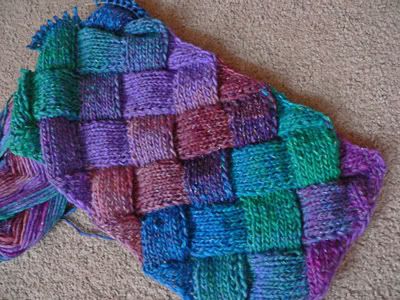 These entrelac scarves have been on my mind all winter long. I hadn't ordered the yarn earlier since I was scoffing the idea of a forty dollar scarf. This is brand new Boku from Plymouth and has a much nicer price tag. Especially when you get that sweet discount from Webs. Can I just say that they have become my favorite store lately?!!

This was casted on for last night and I'm having a hard time putting it down. I had forgotten how much fun entrelac could be. Now I've got this crazy idea of an afghan. Don't hold me to that, I'm likely to change my mind in a day or two.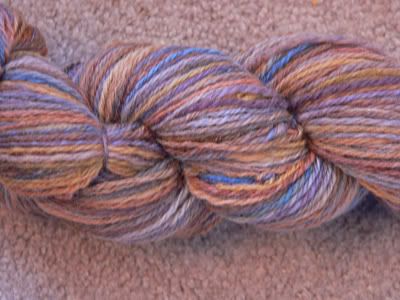 I also finished up half of the Plum Honey roving from The Yarn Wench. I've got another three ounces and with how much time I get to spin, it might be another month before that's done.