Yet another sweater has been completed during my finishing frenzy.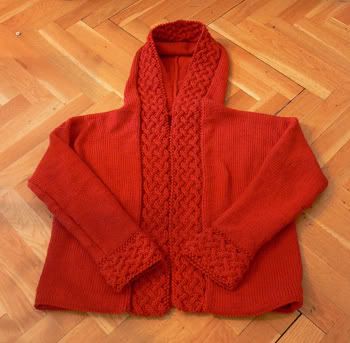 Pattern: A Cardigan for Arwen, Interweave Knits Winter '06
Yarn: Knitpicks Salishan in Red Clay



I've been sporadically working on this shortly after the issue came out. Yesterday I took advantage of nasty grey and wet weather and set about to finish it. Boy am I glad it's done (as are the boys and the housework). The seaming kicked my a**! Grafting cables is a pain. I must have ripped my work out at least seven times. Now? It's not perfect, but I'm DONE. Even just the mattress stitch on the sleeves about killed me. I'm not sure why, but it just kept looking crappy.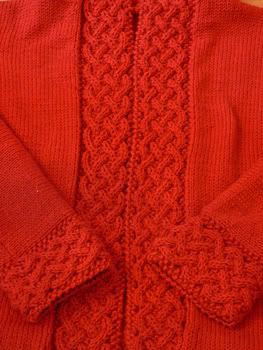 I made several modifications based on my body type and the yarn used. I had had a hard time trying to decide which size to knit, since one gave me no ease but the next size up gave me five. Although I knew that this was suppose to be loose fitting, I don't like to wear really big sweaters. I opted to knit the smaller and add a total of four stitches to the total circumference to give me another inch. I also knew that I wanted it longer so I added about an inch and a half to the total length.

On the flip side since the yarn is a cotton and wool blend, stretching out is to be expected. I took this into consideration when I was adding. Since I knit the first sleeve twice, I saw that it was way too long and took out two inches. One for actual length and another for stretching. In wearing it all day today, I see that my modifications were pretty right on.

Final verdict? Um, it's nice, warm and practical. However it is probably not the most flattering design for my body type. It makes me look bigger than I am. So not what I'm going for. I couldn't decide if I should even show you a modeled shot since I couldn't get a really good one. Finally I settled on one that only added about 10 pounds instead of the 30 I was getting.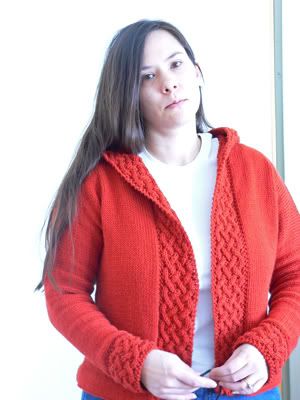 Although there are two more sweaters that need some work, I'm done with this finishing frenzy. I still haven't decided on my next project. When I figure it out, I'll be sure to let y'all know.