Thank you everyone for your nice comments about Arwen! I don't think that I clearly showed my appreciation of the sweater itself. I DO love it; it fits great and the color was missing from my wardrobe. I think alot of my frustration was that I still cling to baby weight and it makes me more aware of how my clothes make me look.

I love a pair of socks that knit themselves. The ones that you pick up every once in awhile and knit a few rounds, put down and ignore for a few days. Then before you know it, they're done. It especially helps when they're toddler sized!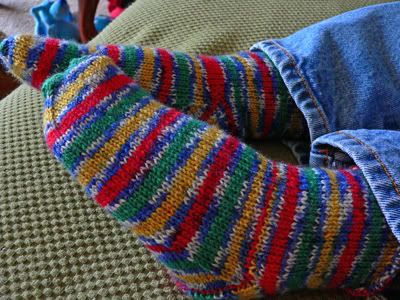 Yarn: Peterle Regatta 4-fach Ringeldruck
Pattern: standard top down on 48 stitches



While Royd was home, we popped into a grocery store that we hadn't investigated yet. Clearly, I need to get more "with it", since after only two minutes of being inside I honed in on a shelf of sock yarn. Score! Your standard Regia was present, along with some all acrylics and then a few balls of this brand I'd never seen before. I snatched up a few moulines and asked Connor if he saw anything. That's what he picked out. The picture does not clearly portray the retina searing colors, but he's quite happy with his first pair that aren't hand me downs.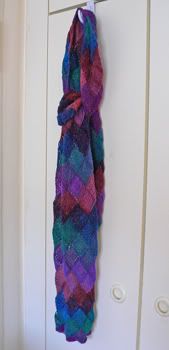 Yarn: Plymouth Boku in color 1
Pattern: Entrelac Scarf



I finished this up last week but forgot to post about it. The original pattern had called for 4 balls of yarn. I ordered five since I was toying with the idea of fringe. As I approached the end of the third ball, I held it up and realized that it was more than long enough. Since I'm pretty short, I don't need a really long scarf and don't like them that way either. So I've got two more balls to play with and am thinking of a hat and mittens. Not in entrelac though (too matchy).

At first I was turning the scarf and then started playing with knitting backwards. It was awkward and clumsy since I have a very funny way of tensioning my yarn. Essentially, I don't but it works just fine under normal circumstances. I had to figure out a way to throw the yarn when going backwards. This was hard since I'm not a thrower. Once I got into the second ball everything worked itself out and I was cruising.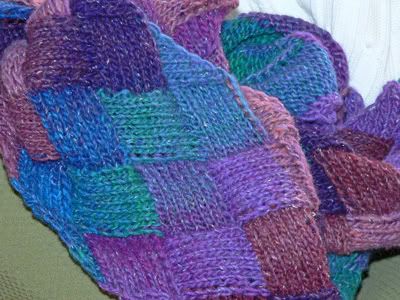 In other news, guess who's walking?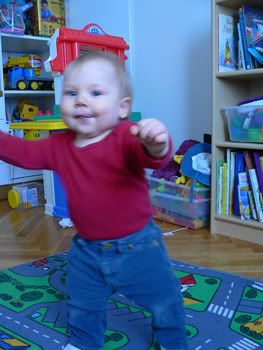 He had taken his first steps when Royd was home (which was really nice) and has been practicing ever since. It's just a matter of time before the running, climbing and jumping begins. Man, do they grow up quick or what?