After I finished the two sweaters last week, I found myself with some free needles. Ok, so maybe two sets is just a drop in the bucket, but you know what I mean. I kept flip flopping as to what to start next. Finally, I dragged out the ecru Denim and sat down and casted on for Saffy.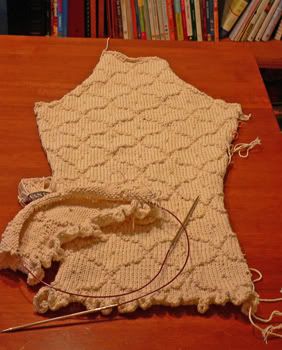 So far there's one sleeve and the second is ever so slowly coming along. Denim is like knitting with kitchen string. Actually it's not that bad when you're doing it, but afterwards you can feel it. I mistakenly had a knitathon on Monday and payed for it all day Tuesday. So, in small doses I will be working on this and maybe by the end of summer it will be done. Remember that it shrinks when you wash it so, you have to knit 20% more. Perhaps I didn't think this through...

In the meantime I've been working on a few socks as well.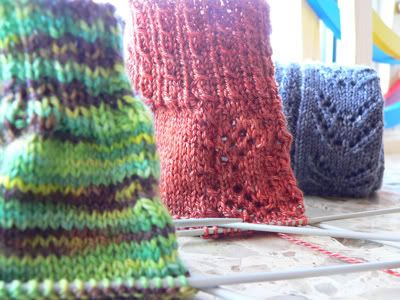 Front-Back: Sunshine Yarn, Merino/Tencel from TWR and Koigu*



Anyone remember me saying a couple months ago that I was going to step back from socks? It's proving to be harder than I imagined. I had intentionally not joined the Sock A Month 3 knitalong for the purpose of not feeling the pressure to constantly be knitting socks. Instead, I'm more tempted. There's just too many great patterns out there and gorgeous yarns in the stash not to.

Hopefully I'll have at least one pair of socks done by next week. Happy knitting everyone!

*Pip, here's your sneak peak at some special socks that are on their way to you!