Well hello out there! I'm back!

Royd flew out on Tuesday morning, marking the end of a wonderful and amazingly short two weeks. We didn't go anywhere, didn't do much but we had the greatest time. Well, except for the various illnesses that made us scrap weekend plans twice.

I know alot of people use these R&Rs to travel, especially here in Europe. With three small children, we opted to have the main focus on family time and do anything else as it came up. Since everyone got sick, I'm glad that we didn't shell out a ton of money and end up sitting in a hotel room.

I didn't get to the yarn store while he was home and I didn't get as much quality time with my spinning wheel as I had hoped, but I did work on various knitting projects. I expect that in the next couple weeks, I should have a bunch of stuff finished. That is if I can keep up with the current momentum.

There is one project that got all done and I can show today.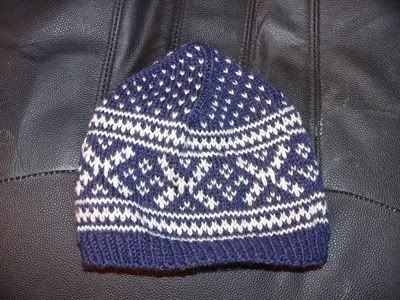 Pattern: Lusekofte Cap from Hats On!
Yarn: Elann Highland Wool in Dark Indigo Heather and Knitpicks Wool of the Andes in Natural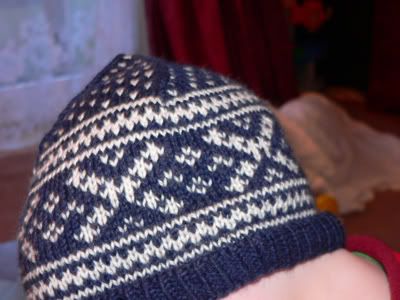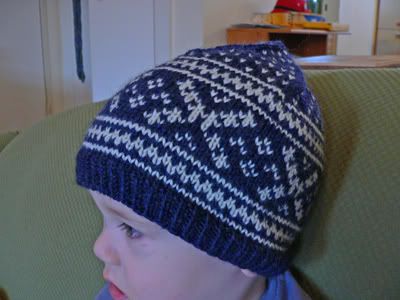 The top is a bit pointy, but it's not so bad. In all it took me only two days to get this knocked out. I worked on it as Marc slept off sickness and the other boys were out and about getting into mischief around town. There are two mistakes in the very center of the panel, but it's consistent throughout the entire row, so I'm not worried at all.

Well, time to get back to the laundry and get some little ones into beds for naptime. See you next week with something else!