Somewhere along the way of the past couple weeks, I misplaced my knitting mojo. I looked in the knitting basket, I looked online and I looked in the boxes of stash. Nowhere. I attempted to force it into existence by dragging out needles and lots of yarn. Nope, still not there. If anyone has any ideas to find it, let me know. I want to knit again!

Thankfully, there's back up entertainment: the spinning wheel. Boy, is she ever getting a workout too!

First, I finally finished this up. I did the first half months ago and started on the second right after Royd's leave in February. Love how this turned out.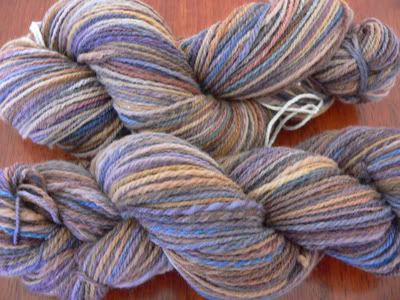 Plum Honey from The Yarn Wench
6 oz of Falkland
Navajo plied, 700 yards



Next up, I spun up some

Superwash

Merino. I was going for thicker singles this time. When I first started spinning, my goal was superfine singles. Once I got there, it was really hard for me to make them thicker. Of course, this was practice and it's not all that great.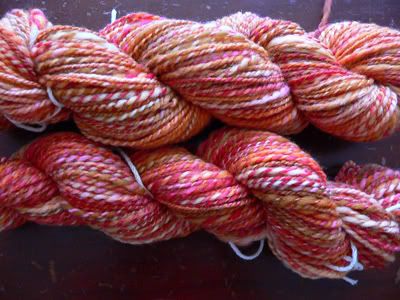 Autumn from The Spunky Eclectic
4 oz of

Superwash

Merino
314 yards




This is a horrible shot of the colors, but it shows the

inconsistency

in spinning. Lots of practice is needed!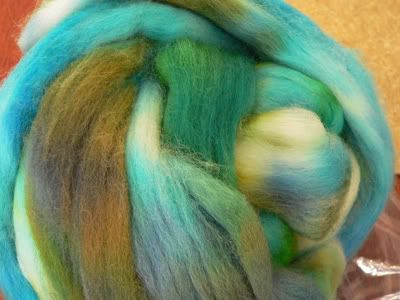 This is what I'm working on now and below is what I'll be starting next.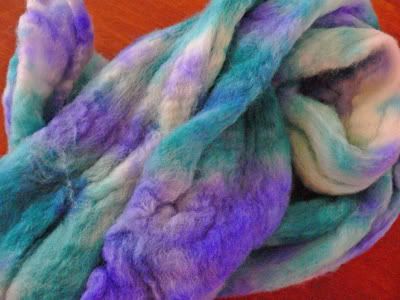 Well, I'm off to finish

predrafting

some more roving in preparation for tonight's spinning.