So... What do you do when one hasn't adjusted for the time change yet and yesterday was a German Holiday? Well, take a look: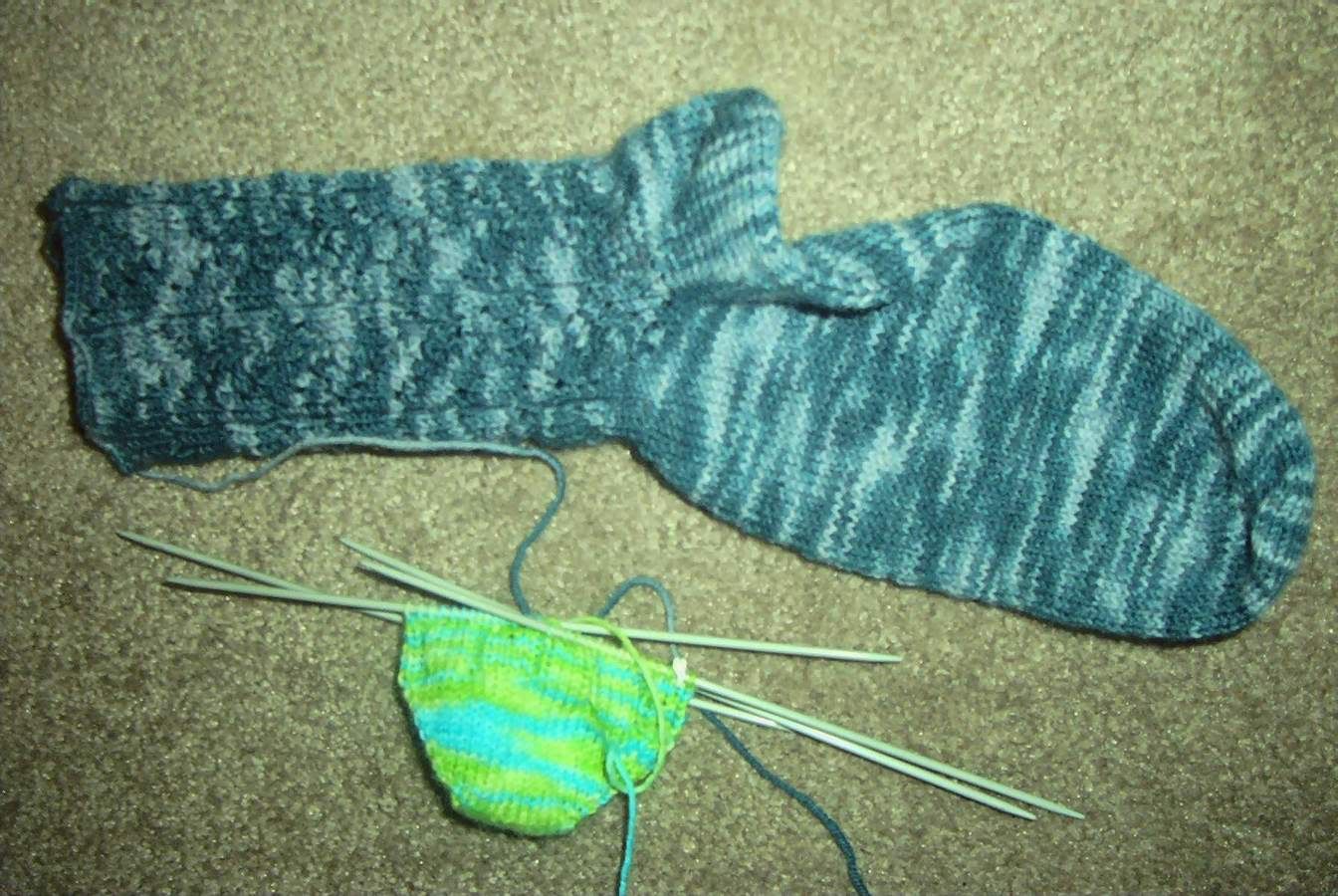 That's what. The first sock on top was started Sunday evening and finished at about 6am this morning. I'm using the Lace Top, Toe Up Sock courtesy of Socknitters. The one on the bottom is using my "Tropical" yarn I dyed using The Percentage-Based, Toe-Up, Garter-Stitch Short-Row Heel, Gauge-Less Socks from Stasia.

I'd never done toe-up construction before and really wanted to see if it was better or not. It rocks! Granted, I've had to frog both socks after getting about three inches up, but it's better than almost a whole sock. I also tried two different toes-the provisional cast-on and the figure eight to see the differences there. I can't decide yet. The figure eight is so much smoother, but leaves a stretched out row. I even redid it with smaller needles. The result was a tighter stitch, but still not perfect. I have two more methods that I'm going to try out. But that will have to wait until I finish these two pairs. All this experimenting is leading up to my Regia socks. I figure if I'm going to make a $20 pair of socks, I better be very happy with the results. And I don't want to be trying out all this when I do them.

Oh, and have you seen the Highland Wool at Elann??? I may just have to place my first order with them. There's other stuff from them I'd like to get, so I guess now's the time to go ahead and get it. Now I just have to figure out what colors I would like and what I'm going to do with it. Something for me, of course!

And... I just got commissioned to do a poncho for my husbands cousin, Lori. My first! Well, the first that I'm actually going to do. When I worked at AC Moore, people were always trying to get me make things for them, but I never accepted. Partly because I didn't feel comfortable enough in my skills to make something well enough to sell and because they often balked at what it would actually cost. But, I'm not going to charge her for the labor. I just don't feel right taking the money from a close relative. It's nice that she offered though, often family members expect that I do it for free and pay for the materials. Only when it's present time, baby!