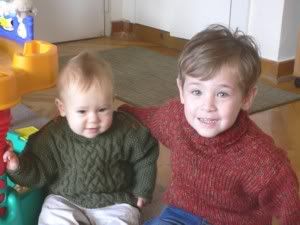 I finally managed to snap a picture of the two of them in their completed sweaters. They've been done for a few weeks now, but I kept forgetting to get a shot when they were both clean, happy and willing to sit still. So much harder than one would imagine!

Anyway, here's the details. Connor's sweater is the Aran Sweater from Knitting for Baby using Woolease. I made it in the 18 months size so that he can wear it through next spring. Reilly's sweater is a basic turtleneck knit with a strand of Woolease and a strand of Rodel's Universal. I should have made his a bit bigger since it fits perfect right now.

Reilly was so funny when I finished the sweater and had him try it on. He made the connection that Mommy had made it, just for him. He kept walking around telling everyone what I had done. Aww...

In other news, I'm exclusively working on the shawl. I've only a half repeat to go, but am thinking that I may just do one more. There's tons of yarn left and another inch and a half couldn't hurt. So maybe sometime next week it'll be done.

I did start another pair of socks using the Trekking I had gotten in the States. To me it seems like a nice masculine color scheme, but Royd thinks it's too feminine. This from the man who keeps buying pink shirts! It'll probably get ripped out and put away until I decide who'll end up with them. There's some other socks I've been wanting to start, but have decided not to until after I start and finish my Friday Harbor socks. I'm just waiting for the yarn to arrive.

Have a great weekend!