Two weeks? Jeez, I guess I've been a bit blah lately. I think it started with the weather we've been having this summer. Cold and rainy days on end makes it hard to get out and have some fun. I know poor Reilly has had enough of it.

Then Royd was gone all last week at a training seminar. I'd forgotten how hard it can be to be the only parent. Well, I guess I'd better get used to it: looks like he'll be deploying next spring again. Fun.

There hasn't been a whole lot of knitting going on here. I think I started about eight projects, with one being on hold and one I'm continuing with. I just wasn't feeling the other ones. I did manage to finish the Irish Hiking Scarf and the Snowdrop Shawl and just need to block them. As far as the Basketweave Pullover goes, I have to undo the seaming I'd done. Royd tried it on and wants it longer. Luckily with the stitch pattern, there's alot of play to block it out a few more inches. I just haven't felt like doing it yet.

This is what I have been working on: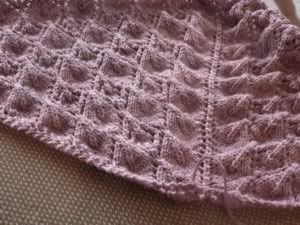 It's the Leaves and Flowers Shawl using some Knitpicks Color Your Own. When I first saw it I knew I had to make it since I will definetly wear it. I like that it's just lacey enough without being too open and that it's done in a fingering weight yarn instead of laceweight. So far I've been cruising along, but now it's at that point where each row takes about ten minutes and I'm only maybe a third to half-way done!