1. Prepare all of the meals for the weekend on Friday afternoon. A flank steak, hot dogs, wurst, and chicken breasts thrown on the grill makes plenty of food for an entire weekend. A nice potato salad, macaroni salad, deviled eggs and grilled veggies rounds it all out. Three hours spent in the kitchen now, makes for less time later.

2. Spend a few hours on Friday doing all of the housework that has to be done.

3. Frozen coffee drinks make for a nice sipping treat. Caffeine also fuels fast knitting.

4. Give husband his list of chores on Saturday morning and let him run with it. Don't stress too much if he isn't doing it. Nagging only slows you down.

5. Occasionally give husband and children love and attention when needed. When they get completely bored, go for walk and get ice cream and toys. Then quickly come home.

6. When you think you cannot possibly knit another stitch, go get a sponge and cleaning solution. Go to ________ (insert word of choice: bathroom, oven, child's room, fridge drawers) and spend twenty minutes there. You'll quickly find renewed desire to go back to knitting.

Following said steps will guarantee a very efficient and goal oriented weekend. In this time you can: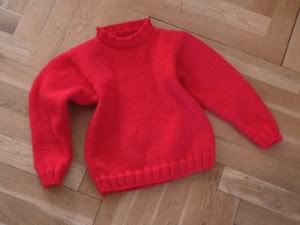 Complete an entire child's sweater,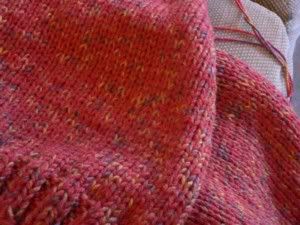 Finish a front and back of another child's sweater*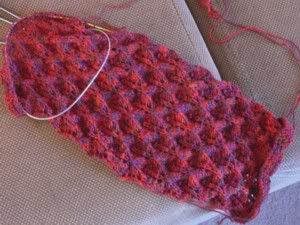 Knit about a 1/3 of a scarf**



You can also get some much needed blocking done: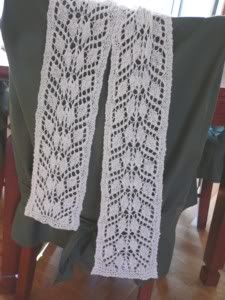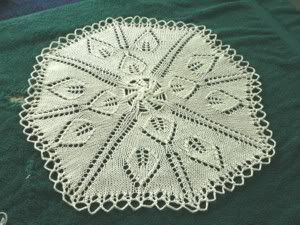 A Twelve Little Leaves doily,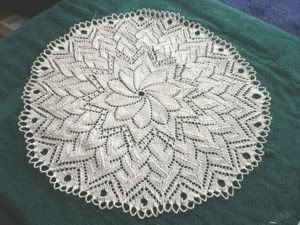 And a Egeblad doily.
* I got about two inches into the vest for Reilly and realized that the yarn was much too busy. So I pulled out some random balls of Woolease in Terracotta and knit them together. I'm very pleased with the resulting color.
**Same went for Connor's vest, but did not have another yarn that looked good with it. So, I found this scarf in Lavish Lace for A World Lit Only by Fire. I've renamed it The Candlelight Scarf for simplicity.