This is what I've been working on so secretively.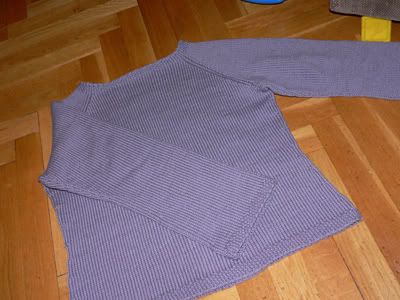 Pattern: Hourglass Pullover from Last Minute Knitted Gifts
Yarn: Knitpicks Main Line in Dusty Lavender



When I had said I was itching to cast on for a sweater I meant it. At first I thought I'd just swatch. Well, the swatch led to starting the body. I then figured that I'd get bored once I got to the sleeves. That didn't happen either. Before I knew it (ten days later) I had a finished sweater! Wow, it's amazing how quickly things get done when you stick to it and only work on one thing.

I had picked this yarn up in the summer when they had discounted it to 1.97 a ball. In fact I have more in their blue. The yarn itself is nice and soft but it is pilling a little already. For the price I got it for, I don't mind so much.

After hearing about many knitters running short on yarn, I knew I had to do some yarn conserving. According to the yardage I had, I would be cutting it pretty close. First I opted to not do a hemmed edge and replaced it with seed stitch. Then I shortened the body and the sleeves a bit. I'm short so this was sensible since the sweater will probably lengthen with wear. The modifications made weren't necessary in the long run, since I have three balls left. But it fits perfect. Yay!!!

Instead of doing a traditional bind-off, I opted to do a grafted one. I'm never happy with how the usual looks with ribbing and seed stitch. I think it looks nice, even if it doesn't match the cast on.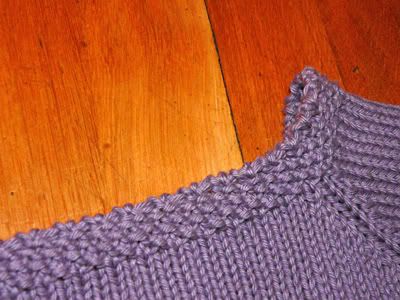 For those who want to see how it fits, here ya go. Please excuse the lack of makeup and messy hair. I have to seize quiet moments to take pictures when I can.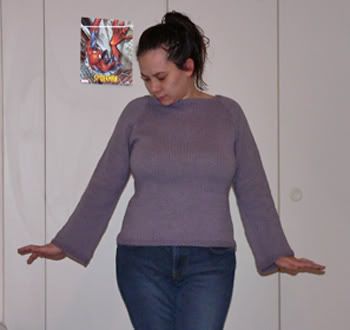 Next up, another sweater and maybe a finished pair of socks. Stay tuned!