I'd hoped to have more to show this morning, but alas things happen. Sure, I could have waited until later in the week but I've got a very busy week ahead. Make that the next two weeks.

This week is the Fall Community Cleanup here on post. It's a chance to make all the buildings and the grounds look nice and clean, just in time for the snow. Knowing full well that the other families in my stairwell will not be participating there's alot for me to do. I mean, why should it be an different than any other day. Basically, I can't stand my neighbors. Dirty and lazy. Long story and I really don't feel like getting my blood pressure up, so I'll stop now.

Next week Connor turns two and then there's Thanksgiving. It's weird, I can't believe he's going to be two, yet I can't believe he's only going to be two.

Well, onto the fiber.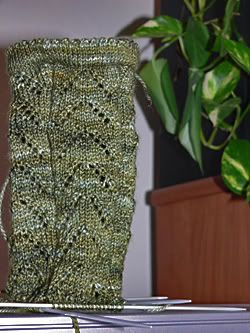 The second Latvian Lace sock is almost to the heel. Two more repeats, gusset time warp and then it's onto the home stretch. This is what I'd really wanted to have almost finished. I got distracted by something new.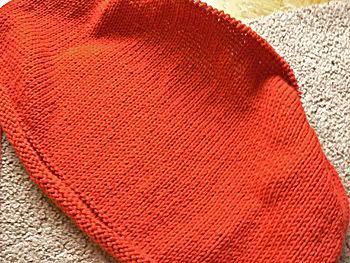 Sure, it doesn't look like much, but it's an almost half finished back to Arwen. I'm using Salishan, a cotton/wool yarn I picked up from KnitPicks. It was really cheap and couldn't resist.

For some reason I've been craving a rusty red/copper/orangey sweater for a few months. It's typically not a color I would pick to wear, but it's always good to shake things up. The color's a bit more muted in real life, but I had to use the flash. Winter is here in Germany and we won't have true to life colors until April.

I'll sign off for now and be back when I have something interesting to show ya'll. Have a great week!