... and then, snap.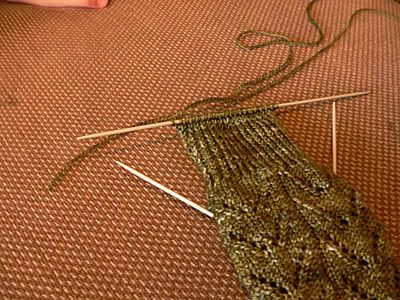 (look at the yarn end)


The first time it happened, I wasn't sure what happened. I had left the sock on the bookshelf and when I came back the yarn was broken. Naturally I blamed a child. The second time, it ever so slightly got snagged on the edge of a throw pillow.

There's no way I can give these away now! The thought of them wearing through quite quickly scares me. So, back to the drawing board. I've entertained the thought of giving this person a different gift, but it ruins my grand idea. I wanted to package these up with some sock yarn, needles and a pattern for a fellow knitter who hasn't attempted socks yet. So, I'll spend some time this weekend thinking about my options.

Here's my progress on Arwen. I'm ready to cast on for the sleeves, but have to wait for my needles. Hopefully they'll be at the mailroom tomorrow. Fingers are crossed so that I can get back to knitting.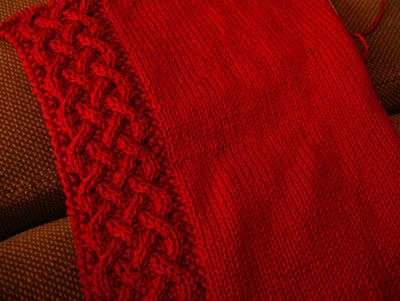 Well, with one more day left of the Fall Cleanup, I think that my prediction was correct. I have spent the past three days cleaning and have yet to see anyone in the entire building help. I've called in quits and figure if someone from the Housing Office wants to complain about the stuff not done, too bad. Heck, my downstairs neighbor hasn't even bothered to walk the bag of garbage sitting in front of their door for a week now outside. Eew!

I'm going to relax the rest of today and sift through the sock yarns to see what inspires me.

Marc wishes everyone a wonderful weekend!