I finished up the first pair of socks for the new year just a few minutes ago.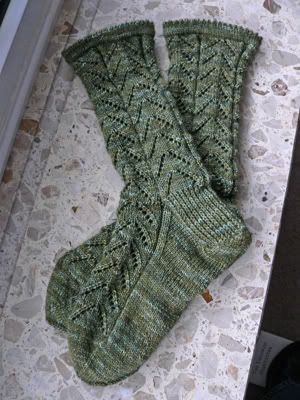 Pattern: Latvian Socks from Folk Socks
Yarn: Superwash Sunshine Yarn in NSS Olive



Can I just tell you how glad I am to have these off the needles??? If you remember, these were suppose to be a Christmas gift, but due to some yarn snapping issues I didn't. I ripped back the foot of the first one and redid it for my size and then finished up the second to match. They're beautiful, but I sure am worried about them wearing out very quickly. I guess I won't be wearing them around the house without slippers.

With these finished, there are only one pair left on the needles. They're basic ribbed socks in cotton and I'm not really in a hurry to get them done. With the new year, I'd like to step back from the socks a little bit. Not completely, just enough to allow time to work on other things.

Speaking of other things...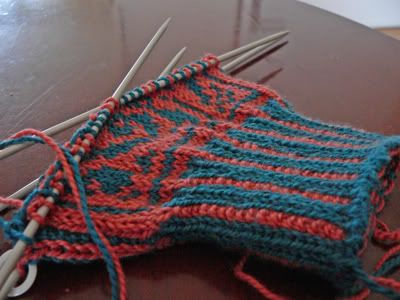 (the colors are nowhere true, but trust me, they look great together)



Look what I started!!! After a few days of ignoring them, a lightbulb kinda popped on and I sat down to tackle that cast on once and for all. I found that the particular type of tubular cast on made a huge difference. I tried about five different once before settling on the Italian method, as described here. It took me a bit to get this one down, but it was well worth it. The edge is now stretchy and will fit over my hand.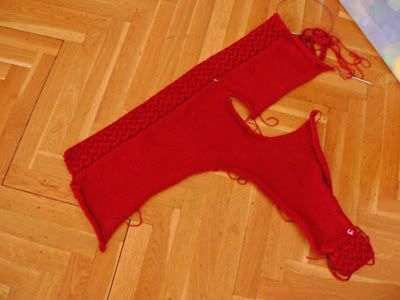 Then there's my progress on Arwen. I finished up the left side yesterday morning and plan on casting on for the right this evening. I've called a popcorn and movie night after dinner, so as long as Marc is cooperative, I should be able to get a bit done.

Here's to hoping!