Thank you for your suggestions! It was quite interesting to see what everyone had to say.

In the end I went with Ariann, as it was also the most popular one. Here it is on day four and it's fourth attempt.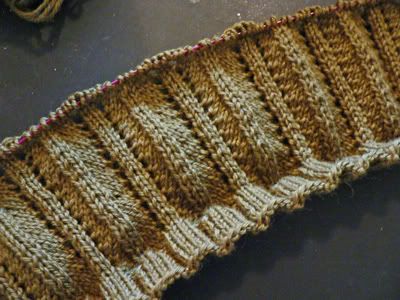 Being that it seemed such an easy knit, I kinda made alot of errors. Inability to follow directions, unhappiness with the selvedge stitches, dropped stitches, and casting on for the wrong size. Now, we're doing good.

In the past month I haven't touched the spinning wheel at all. It's a shame since I keep ordering more fiber. I used to have lots of time in the evenings to sit down and get lost in the rhythm. Then a little baby I know has decided that he doesn't need any sleep and it's often after 9:30 before I get anytime to myself. Since I am usually knocked out by 10:30, it just never seems like much sense to bring the wheel out into the living room. Instead, I pick the knitting up and try to squeeze a few rows in while watching the news.

Last week I received some gorgeous fiber in the mail. I just happened to be at the Yarn Wench site looking at colorways when I noticed that she was in the middle of updating. Yeehaw! Everytime I get an update notice, everything I like is always gone. Man, it was hard not to buy a bunch of it up. I was good and settled on one. (Sadly I can't get pictures today since my camera battery died and it'll be a few hours until I can try again. Boys are sleeping, so now's my chance to post.)

Yesterday I took advantage of naptime and managed to finish plying up what was on the wheel.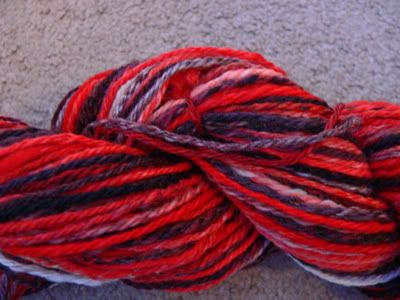 It's two ounces and 150 yards of Crown Mountain Farms' Heat Wave, Navajo plied. I'm still debating whether I like it or not and if I should finish spinning it up. You'd think that the brand new roving would have landed on the wheel next but it didn't. I just can't decide what to do with it, so to satisfy the spinning urge I'm working on some Optim, from this post. (No pictures of that either. Sorry!)

Well, my time is limited, so I must make the most of this precious time. I'll leave you with a picture of what I have to deal with when someone is awake.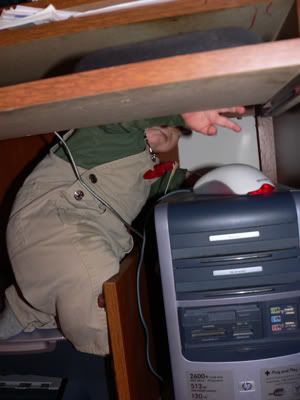 Obviously, I'm not spending that much time on the computer lately!