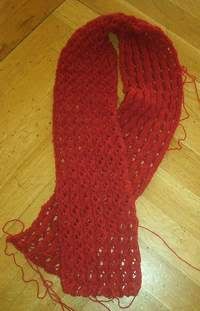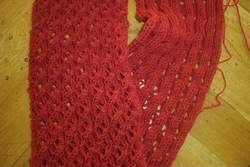 Red scarf was just taken off the needles. Now to weave in those pesky ends. I love how on the one side, it looks almost as if it's one continous pattern, and not broken by the ribbing. I may have to make one for myself. Maybe not. I see lace scarves in my future.

May I present to you, four knitted hats: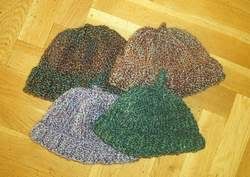 Two are sized for baby/toddler and the other are for older children. All were done in Lion Brand Homespun at about 4sts per inch. That's as tight as I could get it. I chose this yarn because although it's not the warmest out there(say like wool), it is very soft and it's what I got. I could get another four hats at least out of what's left. Though, as I was doing the first one, I remembered why I hadn't done anything with it before. I can't stand knitting with it! No particular reason, it just drives me batty.

Oh, yes one more item to share with you. This is what we were NOT discussing last week:


It's the Bell Cloche from the Pattern A Day Calendar. I chose Cascade Yarns Quattro for it. It took three attempts at blocking before I got the right shaped bowl to do it on. Have I worn it? No, it has decided to act like spring since I casted off. Stupid weather.
This brings me to another thing. I have worn a sweater for maybe a total of 5 hours this winter. After about just a half hour, it's been torn off as I seek the nearest window for fresh, cold air. I suppose it has something to do with nursing? I can't really say how I was with Reilly because we were in Georgia. I never wore sweaters there. So, I've been re-evaluating my wishlists of projects. Perhaps I will take the sweaters off of it for now. I certainly have plenty if I do get cold.