Or tomorrow. Or maybe the day after that. What could possibly leave me to make this frightening statement?

It's contained in this little tiny box: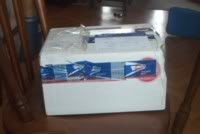 Ooh... What could be inside?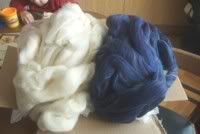 Yummy! That's a pound each of Corriedale and Wildberry rovings from
Copper Moose
.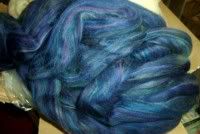 A sexy shot of the Wildberry. Isn't she beautiful?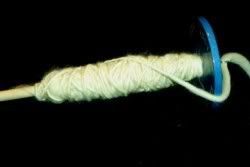 My first ever attempt at spinning. Not too bad, eh? The spindle was a gift from my SP3,
Pam
.
I know I haven't talked about this before, but it's been in the works for awhile now. Here's the story. This summer my mom showed me her Navajo spindle and got my brain thinking about it. So, when we moved here, I saw that the Arts and Crafts studio on post had a weaving and spinning class. We were only here about a month and a half before Royd left so there wasn't anyone to watch the kids on Friday nights. I had been holding out until he does get home, but I finally caved in. I'm so glad I did. It's so fascinating! I still plan on taking the class so that I can learn to use the wheel.
On top of that, my mom has said that she's going to send me her spindle, fleece and carders. Woohoo! I'm giddy!
I was hoping that the package would get delayed until Monday so that I could get some other projects knocked out. I've finished the knitting on Connor's sweater and it's busy blocking on my ironing board. Although, he won't be wearing until next year, I just want it done. I also had started working on the cowl sweater. I'm halfway through the second sleeve and then still need to do the front. Of course I finished my pink socks.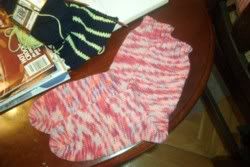 As I was washing all of my wonderful socks yesterday I noticed something peculiar. All the socks I've made have been in varying shades of pinks and blues. It's weird because I almost never pick these two colors for sweaters or tops. But, almost all of my dresses and pretty unmentionables are these colors. Strange, huh?